Maybe Scandinavians have inherited a special strong urge to travel from the Vikings, maybe it's in our blood. I don't know, but I do know that it certainly is inspiring! This time we Swedes traveled to Oslo, Norway to meet up with blogger friends from different countries around the world.
It sure is an interesting, very rewarding and more authentic way of travel to find a venue to go to with fellow bloggers you've been talking to in the internet and becoming truly dear friends also in real life.
Bloggers meetup background
We have met several of the bloggers before. The hosts this year for the Oslo Blog Gathering, Renny and Diane, arranged this event together with Visit Oslo to make it an awesome exploring of the Oslo area with the help of the Oslo Pass.
We have also met Tor and Anna several times before, which now generously hosted us in their winter home. Poor Tor had to sleep on the sofa and Anna could only participate one evening due to her work unfortunately.
Even Claudie and Pierre were hosted by Tor, giving us an opportunity to reciprocate some of the food feasts at our meeting in Provence at Claudie's home last year.
This time with a more Scandinavian touch of course! Not to mention a lot of Champagne cheers… *giggles*
Our fondness of Champagne actually has a history background: once upon a time I started something called the Cyber Cruise for bloggers, which simply was a way for us to do internet travel together to different destinations – and we also had a lot of fun partying with Champagne.
Last year we continued that travel idea into real life instead, beginning with France… and who knows where we end up at last…? One thing is sure though: we're making a lot of new, awesome friends this way!
Oslo sightseeing by tourist bus
The Oslo Blog Gathering started out with an introducing bus sightseeing tour called Oslo highlights, with Margaret as guide – a truly inspiring woman with humor who did show us Oslo downtown, Vigeland Sculpture Park and Holmenkollen Ski jump.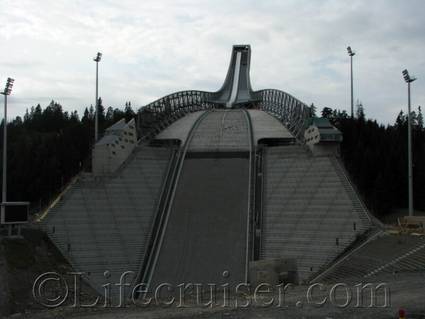 Think about going down that ski jump? Well, you only have to qualify to participate in the FIS Nordic World Ski Championships that will be held at Holmenkollen in February 2011!

Oslo City Hall Reception
After the Oslo sightseeing tour it was time for the reception with the Mayor of Oslo, Fabian Stang, in the City Hall. Yes, he actually agreed to meet us all over a glass of Champagne and some snacks – what a great PR for Oslo and the Norwegian hospitality, don't you think?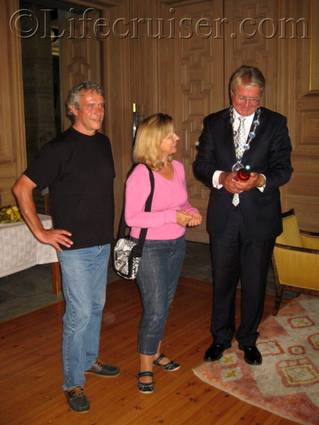 Especially when you consider that this was on his birthday, so naturally we all brought him gifts, a small token of our gratitude, things from our home countries. Here in the photo above Claudie & Pierre from Provence, France.
Oslo City Hall is a very special building, in my opinion it's not so much the outside postmodernism architecture as the inside interior that impressed me: native and historical wall paintings telling us a lot about Norway. Here is just one sample of them.

Click for more photos of Oslo City Hall
I understand very well why the yearly Nobel Peace Prize ceremony is held in the City Hall, don't you?

Akershus Fortress
The Akershus fortress has survived many attacks, even by Swedish forces actually. The fortress was strategically important for the capital, and therefore the whole Norway. It's said that the one that ruled Akershus fortress also ruled Norway.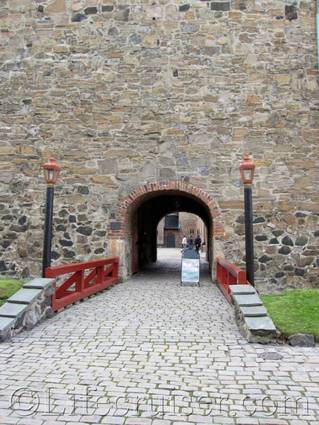 Besides being filled with so much Norwegian history, it also has a gorgeous architecture and interior. One can truly feel the historical atmosphere in there – we even managed to meet the fortress ghosts – we think….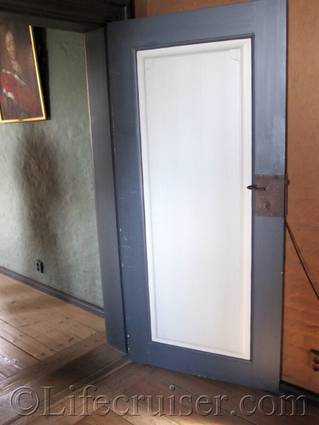 Click for more photos of Akershus Fortress
A walk around Bygdø Peninsula
Tor was doing a special walking tour around the Bygdø peninsula with some of us and of course he knew every part of it since he lived here for many years in his youth.
You have seen the Norwegian trolls I spotted before, but now he took us to the paradise instead!
Well, almost – the beach Paradisbukta (Paradise Bay) among some other interesting sights on the way….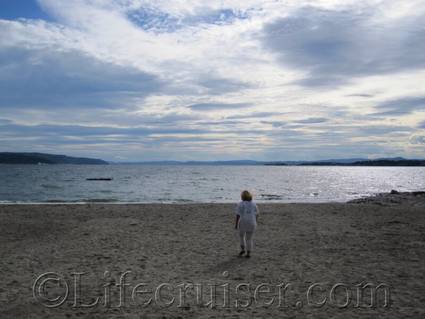 Click for more photos from Bygdø Peninsula
Ship Museums at Bygdø Peninsula
For the one interested in marine history Bygdø is a real treasure with several different ship museums of important matter.
Fram Museum is the ship Roald Amundsen used at his Polar Expeditions, the first to reach the South Pole in 1912 and probably with the worlds strongest ship. I would call it one of the worlds strongest men too!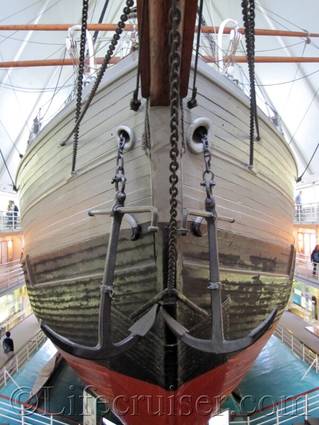 Click for more photos from FRAM Polarship Museum
Thor Heyerdahl was what some might call crazy Norwegian scientist and explorer, but I call fascinating. He most certainly must have inherited some viking blood, considering his extra ordinary world famous expeditions he did which are exposed in the Kon-Tiki Museum.

Click for more photos from Kon-Tiki Museum
Of course there would not be a completed marine museum tour if there were not the most ancient and truly inspiring Viking Ship Museum with the three Viking ships Oseberg, Gokstad and Tun and other grave findings.

Click for more photos from Viking Ships Museum
These ships were actually burial ships carrying lots of treasures like wagons, horses and textiles which seldom has been preserved from the Viking age. Together with the other grave findings it tells us a lot about the Viking life not otherwise possible to know.

Lille Herbern Island
To get to the Lille Herbern Island from Bygdø Island, we had to take the smallest ferry I've traveled with so far which goes a very short way over to the island, only a few minutes ride.
We were going to dine there at the Lille Herbern restaurant together with the other bloggers, who were on another sightseeing tour than us.
We sat down outside to wait for them and of course we grabbed the opportunity to drink Champagne while we were chatting. We didn't mind waiting at all! *giggles*
If the weather had been more nice one could have stayed out there for a long time admiring all the different boats that passed by the island.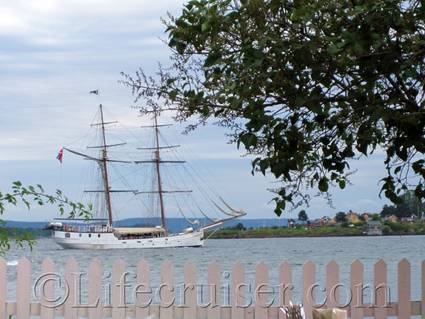 Click for more photos from Lille Herbern Island
Harbor & boats in Oslo
Our regulars readers know that we have a special love for boats, so of course we did capture a lot of different boats in the harbor of Oslo and surroundings. There are many fjords in Norway and following are of course a lot of boating.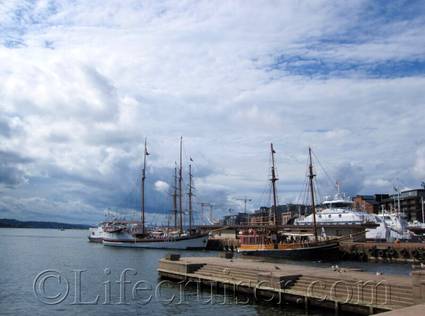 Click for more photos of Oslo harbor & boats
Drøbak town
Drøbak is a small town not far from the capital Oslo, with many picturesque tree houses situated on hill streets well worth to wander around.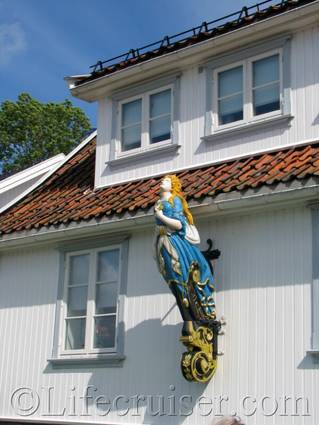 The town also has an important history since it was Oslo's winter harbor during many years because the fjord did freeze in severe winters all the way to Oslo.
From here you also can take a ferry out to the Oscarsborg Fortress – if you make it in time which we did not…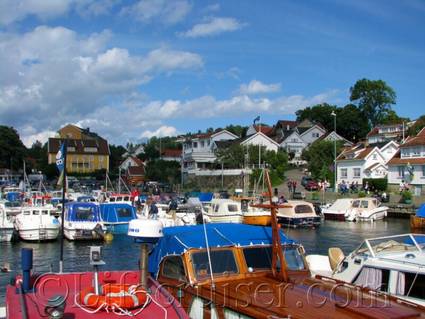 Click for more photos from Drøbak
One important moment in the history was from the German invasion of Norway in 1940. The German heavy cruiser Blücher sank after an attack from the Oscarsborg fortress near Drøbak narrows.
Result: it was blocking the way for the following troops, leaving enough time to evacuate the government, parliament, royal family and the national treasury.
Norway never surrendered to the Germans, they participated as an ally in the war instead.

National gift Voksenåsen
Voksenåsen is a national gift from Norway to Sweden for giving help to Norway during World War II – another sign of the two countries friendship – not only by bloggers….
Even though Voksenåsen was not part of the OsloBG sightseeing, we went to this hotel and conference center by ourselves during the Oslo visit. It has a simply breathtaking view over Oslo.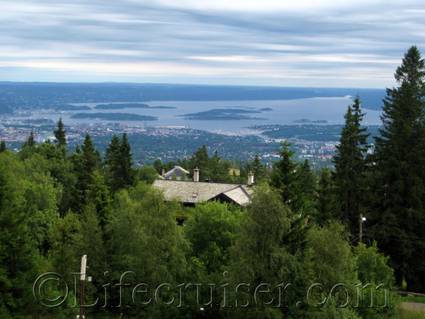 Click for more photos from Voksenåsen
Middle Ages Ruin Party
In the old parts of Oslo city there are some preserved ruins from the Middle Ages. It was here that the urbanization of Oslo started around the year 1000 – and this was also our place for a bloggers bubble water party the last evening.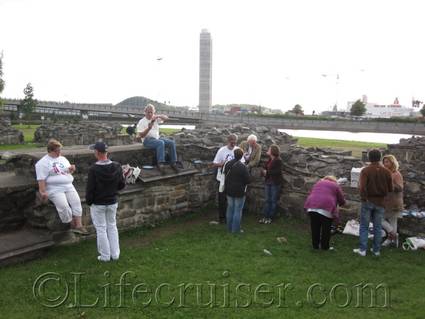 Click for more photos from the Oslo middle age ruin party
Suitable don't you think? Old habits meeting new habits….
OsloBG Roundup
After the bubble water intake in the ruins we went on to the pub Dubliner in central Oslo, where also some bloggers who hadn't been able to make it earlier, had a chance to meet up and chat. A truly nice roundup of a wonderful blog gathering.
At the Dubliner they have a wall painting saying: "A stranger is only a friend you havent met yet" – and those bloggers really proved that the saying is true.
Thanks x millions to all the Oslo Blog Gathering participants & hosts, for making it such a huge success and wonderful memories to re-experience it through all ours photos!
Lifecruisers Norway 2010 photos (with links to different folders).
So where do we meet up next time? Well, I did hear some rumors about Ibiza…
Lifecruiser ♥ OsloBG Bloggers