When coming home from a long road trip like our Europe trip, you might be lucky like we are: coming home with more than just your wonderful memories or photos. We got two local liquor's with an interesting history, as a gift from our generous friends Cora and Ron.
Both liquors are from slijteri & wijnhuis Zeewijck in IJMUiden, The Netherlands and have an old, seaman-related history, so what could suit this blog any better…?
IJMUidens Spicy Liquor-bitter Piertje
As you can spot a glimpse of in the photo below, this is a darker liquor, which in it's spicyness reminded us a bit about Jagermeister actually, but with a milder taste better suiting our tastebuds and obviously even the old fishermen in IJMuiden: if you consider the fact that there were 36 bars there they could escape their harsh life for a while…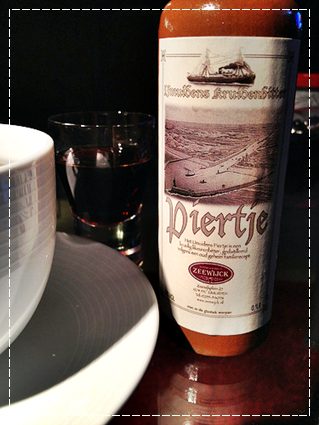 The name comes from when they discovered this safe haven once upon a time, named after the ancient heads of harbor of IJMUiden. The piers protected the North Sea Canal channel in order not to silt up.
The harbor built up in IJMuiden were invaded by many fishermen at this time, who liked to drink the Kruidenbitter, giving it it's nickname Schipperdrank or boats men liquor. I don't blame them: it's really good and they lived a hard life!
IJMUidens Rom Liquor Sluisje
The other is a Rom liquor based on an old family recipe, with a strong Vanilla taste, bottled in a very nice old looking ceramic bottle even this one – as you can see in the photo. The name is Sluisje, which as a word means sluice and that is another interesting attractions they have to attract us tourists. Very interesting built sluices well worth a visit to study the construction of them.
Be aware though, as with other liquors, they're rather strong: we did noticed that when we did drink it now at home… ehrm…
I say no more than: thank you again Cora and Ron, you're as sweet as the liquors that you gave us and we really, really appreciate your gift!
Continue to keep an eye on Lifecruiser Europe roadtrip 2012 Flickr Photos, there will be new photos uploaded there now and then until I'm done with them all.
©Lifecruiser Love The Netherlands
Earlier posts about Lifecruiser Europe Trip 2012:
The Good, The Bad and The Ugly at the Europe trip
Ending a long Europe road-trip
Europe roadtrip: in the Alps
Europe trip: leaving the Champagne district to go to Provence
Europe Road short update
Europe Road: leaving Bruges
Europe trip: blogger meet in Wijk aan Zee and IJMuiden, The Netherlands
Europe Road Trip Day 2-3 Goodbye Germany Hello The Netherlands
Europe Road Trip Day 1-2
Europe 7500 km roadtrip start!