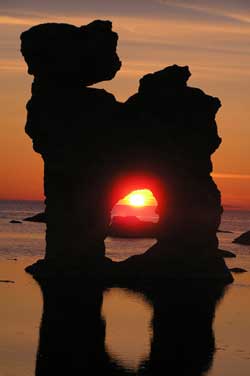 This is one of the tourist attractions at the island Fårö outside Swedens east coast where we go every summer. It's a sea stack (among many!), or in Gotländska (the next bigger island) it's called Rauk. It stands a bit out in the water of the Baltic Sea. This particular rauk is called the dog, or the coffee pot. I can see why it's called the dog, but do you see any coffee pot involved there???
I love this photo because of the sunset and the reflections in the sea, even though the quality is not perfect in the photo. Of course, the fact that we have many fantastic memories from the island makes it even more precious to me

We have seen so many wonderful sceneries down at the sea stack area during sunsets. Birds, reflections, boats, cloud formations or colors and thunderstorms – very powerful!
The quality in this photo above is even worse, but that's because the moon is zoomed in and we didn't even used a tripod. What I want to show with this photo is just the fact that this is the moon and it's red around it like it was the sun in the sunset! That was actually the first time in my life that I'd seen a moon as big as this one (not viewable in this photo) and with that red color surrounding it in Sweden.

Captain ♥ Lifecruiser