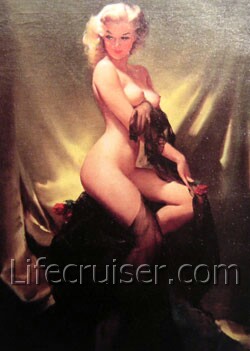 Golden Beauty 1955. Oil on canvas. Gil Elvgren.
© BROWN & BIGELOW, INC, ST.PAUL, MINNESOTA
I'll just have to admit that certain things are true even though it does seems unfair….
How you're making your wife satiesfied:
(works every time)

Caress, praise, spoil, revel, smell, massage, plan with, fix, court with a serenade, flatter, support, feed, torture, bath, amuse, sweeten, stimulate, pat, comfort, purr, hug, wet-nurse, rouse, calm down, protect, phone, write, foresee, lean at, kiss, make a toast with champagne and strawberries, bring her chocolate and flowers, surprise her with gifts, make breakfast, take care of, forgive, sacrifice for, coax, give things to, leave, leave back, beg, rise, entertain, charm, drag, crawl, ignore, defend, winkle, dress, brag about, agree with, smell good, be lively, rationalized, de-tox, sanctify, help, confess, subtilize, upgrade, embraze, accept, suck up, listen, understand, dance with, be flexible, argue, borrow, steal, climb, swim, resuscitate, repair, patch up, respect, go in death for, dream about, promise, deliver, tease, flirt, confide, assure, yearn, lure, make an angel, soft with, get on nerves, soothe, serve, rub, rescue, bite, taste, nibble, back up, run away from difficulties like a landcrab on her existence sea bottom, joke, scrabble, do tricks for, whip, persuade, win over, jump, flap, fly, do it without fuss, turn, slip, shuffle, squeeze, soften, make wet, excite, tremble, put-in-hole, keep on rocking in the free world, go in waves, make jelly, brush, drool, drip, dry, wax, smile, satisfy, succeed, dazzle, amaze, bewitch, idealize and worship.

Then start from the beginning again.

How you're making your husband satiesfied:
(works every time)

Show yourself naked…
Sometimes I just love to be a woman!!!
Happy nude weekend everybody

PS. Stay tuned in the coming couple of days to get more info about the cyber cruise we're about to do – or email me if you want to participate!