Have you had problems finding a good restaurant when out traveling? We have sometimes. I'll tell you about our search plus give some restaurant search-sites in the end of the post that are very useful in the mission to find a great place to eat.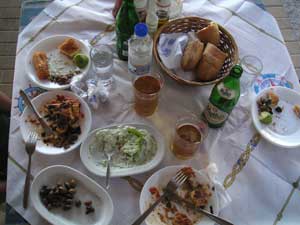 My body lives an own life, I have nothing to say, which means that it very often is urgent when I need to eat. Some mess with the blood sugar levels – I just go out of petrol and is dragging myself forward. It can be tough to do any sightseeing in that condition.
Because of that urgent need, which not always comes at dinner time, we have many times walked around different cities abroad, in our hunt for a restaurant. The funny thing is that at several occasions, we have not found one single restaurant for block after block we've walked. It's like they have vanished from the earth's surface, but we've simply been on the wrong streets for restaurants.
A couple of times we've even ended up at McDonald's or Telepizza for pure survival, which we detest when we're out traveling, at least if we're only staying a short time. We really want to taste the local food. That's the purpose to be abroad. Of course, if we're staying a longer time, it's always interesting to test the burgers and pizza too.
We always find loads of very inviting restaurants when we're NOT looking for them though…. and later when we're hungry, we never find our way back to them…
It's common to ask the reception staff, they use to be local and know where to eat or at least have some recommendations from the hotel in general.
One thing we didn't think of when asking them for help, was that they might have different preferences than we have. If staying at a Hostel they often recommend rather cheap restaurants. Our intention often was not to look at the price, we just wanted somewhere with a special atmosphere appealing to us.
We should have gone with our intuition as usual, because we saw many very charming restaurants around there that probably would have been a better choice.
Lesson learned: Do not pass a restaurant you like, GO IN THERE AT ONCE!
It's the same with photographing the travel food: we are always so hungry when we finally get food, that we never manage to take photos of the delicious-looking food, but instead end up taking photos of emptied plates like in the top photo… So typical us…
Now we have learned to pack some survival snacks while searching for a great dinner place. Almonds or other nuts are the most easy ones to carry around without becoming too damaged, but pack whatever works for you.
Another thing that can be very difficult, challenging, exciting or surprising when you're abroad is when you shall order dinner at a restaurant. If you're lucky, they have a menu in English, but if not you're on an real adventure. Yeah, we like that!
Even though they have an English menu, it can be difficult to imagine the dish anyway. Even if you know the ingredients, they still can make it very, very different from what you're used to. That's one of the big charms with traveling, right?
What is NOT especially charming is getting sick from food or food poisoning, so make sure to follow all safety precautions and always have a covering travel insurance.
Travel Dining Help Tools
There are many sites like toptable.com, opentable.com, lastminute.com, bookatable.com, yelp.com, zagat.com, tripadvisor or michelinguide.com (the red guide) to help and I'm going to check out certain restaurants in advance from now on to be sure to find the right ones!
There are even iPhone and Android Apps to make the dinner reservation easy for us travelers.
You can also read about airline meals at airlinemeals.net and at GateGuruapp.com you can find out which stores and restaurants are in each terminal – with reviews as well. Be aware of though that not all reviews might be true.
A rather new option is to use NewGusto.com, it's like couchsurfing, but for dinner plans instead. This site connects travelers with locals that are interested in having dinner guests, for free or paid.
I think it's a splendid way to meet locals and to really get to taste authentic local food!
Or you could go the easy way and simply choose all inclusive holidays, that way you can be sure of never having to search for dinner places.
What is your experience of finding food during travel? Tell us in the comments!
©Lifecruiser Love Local Travel Food