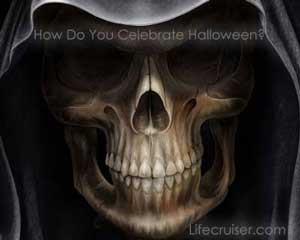 How do You Celebrate Halloween? Tell us and we'll haunt your blog. Maybe you can give us some very good tips too?
How Swedes Celebrate Halloween
Halloween is a rather new event in Sweden. It started very sparely in the mid eighties and didn't really burst out until the end of the nineties and therefor seems to be most celebrated by the youngsters. Even today, you don't notice much of Halloween. I'm sure it will grow a lot in the future though.
Actually I did search for some Halloween events to attend, but found only one: a ghost town walk in the old town in the evening. I was tempted to book us in, but it involves a lot of walking on cobblestones and with this weather we're having, my back would probably crack totally. Ah, well…
There are some Halloween activities for the kids in the Kungsträdgården area in the middle of the city, since they are having their fall break from school this week. There are activities like doing Halloween makeup, making masks and other costume details and a scary show for kids.
We probably picked up the Halloween tradition from immigrated Americans and of course, from movies, books or comics and of course the trading have made heavy campaigns. Swedes tend to take after the U.S. in a lot I can tell you. There may also be some connection to the growing interest of witches, predictions and other occult things.
The youngsters throws some Halloween parties and you can see some house owners decorating with pumpkins outside, but that's about all. The pumpkin growing has increased of course, earlier on pumpkin wasn't any common find in our gardens.
Very many Swedes don't care at all to decorate or even acknowledge Halloween as something to celebrate. One reason for that may be that it's in conflict with the All Saints Day when we commemorate the passed away.
The Trick and Treat custom is not particularly common either, it's mostly within the daycare centers or preschools or between friends families as the most. Then the kids dress up as witches, ghosts or skeletons.
I've never seen any kids going around my neighborhoods ever. We have another tradition around Easter instead when the kids dress up as witches and go around for some treats, but it seem to have decreased a bit during the years too.
Not many know this, but Sweden has actually been having similar traditions as Halloween for as far back in time as the Viking age. We have used costumes and symbols around the death and even lightened vegetables like neeps or Swedish turnips, just not for Halloween, but for other holidays.
The date for celebrating Halloween in Sweden may differ from the date in US. Even though Halloween parties can appear at any date in the end of October, it's most common with the night before All Saints day that is the first Saturday in November, so some years we celebrate Halloween after the 31th, in the beginning of November.
That is about the only wrong in the Swedish Halloween celebration in my meaning, it should always be the 31th like in the US – also because it's not a good idea when it does conflict with the All Saints Day more religious meaning.
Lifecruiser Halloween
Me and Mr Lifecruiser love to dress up in costumes of all kind, so I really hope that we another year will be able to throw a Halloween Party in real life.
So how will we celebrate Halloween? At home with you!
All bloggers are spooktacular welcome tomorrow Wednesday the 31th October to our big Cyber Cruise Halloween Party!!!
Don't forget to post a picture of your Halloween costumes (fake or real!) and other scary things in a post at your blog and come here and party with the other ghosts…
…and if you wanna dress up your blog for Halloween to get the right atmosphere, go and get some of Gattinas FREE headers for Halloween!
Others How do You Celebrate Halloween Posts:
How thebluestbutterfly spend Halloween
Captain Spooky Lifecruiser
Banner courtesy: Sanni the BUTTon goddess
♥