There is some very creative hotels even in Sweden and we did a roadtrip to one of them a couple of weeks ago: Hotell Hackspett or in English Hotel Woodpecker, about 40 feet up in an old oak tree in one of the parks in Västerås.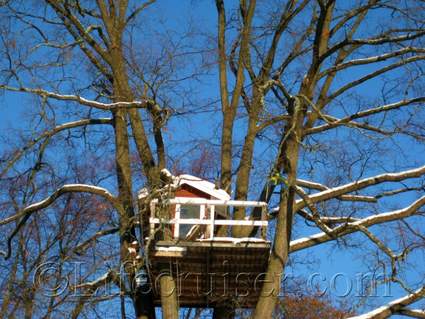 This is a very traditional Swedish red cottage, just placed a bit unusual. It was built in 1998 and renovated in 2006. No damage to the tree was done when they built this cottage, no nails - it's carried up by very powerful steel wires.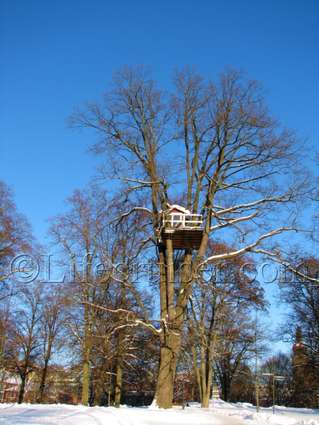 Mikael Genberg is the Swedish artist that came up with this unusual and fun project and this is not the only place he want to place a red cottage - he also want to place one at the moon before 2011, thus creating quite an interesting challenge for the Swedish Space Corporation!
I'm not so sure that I could manage to book the Woodpecker treehouse hotel suite for the night, not that I wouldn't dare to sleep there, but because how on earth would I get up there in the first place? I'm afraid of heights and it's only accessible by a (wobbly?) rope ladder!
No, but I like the use of the rope ladder for something else though: to get up the yummy meals!!!
In this photo you can see how the ropes goes up in a hole at the floor at the treehouse, but I saw no harness - which I think they use to get you up there, you don't have to climb thankfully.
… and yes, it does has both a kitchen and a toilet up there too, so you don't have to worry about getting down the rope ladder in a hurry! *giggles*
Personally, I think they have a rather expensive room rate: 1100 SEK (146 Dollar / 108 Euro) per person and night without any meals, 1250 SEK with breakfast, 1500 SEK per person and night with breakfast and dinner.
One could think that you really could get some peace and quiet alone up there, but I wonder how it is with all the people passing by in the park? Would it be like to be on stage?!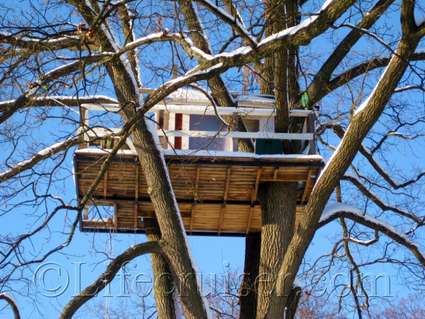 Tempted to give it a try? The treehouse can be booked by Västerås Tourist office (+46 21 39 01 00).
It can only be booked between 1 April - 31 October since it got no electricity or heat (other from yourself!), but I recommend June-August since nights can be very chilly!
…and sometimes very windy too, but that might just do the trick to get you to sleep…
Lifecruiser ♥ Unusual Hotels