One of the very best hotels at Alcudia Beach, Majorca, is Hotel Vanity Golf****+. I would even go so far that I'll say that it's the best location of all the hotels there: right at the beach, but yet close to all the stores and restaurants in Alcudia port.
I certainly love the welcome you get at the reception when arriving: Champagne! And for breakfast too! Yeah, totally my style wouldn't you say? *giggles*
Hubbys daughter Jane was very surprised when we arrived there at our trip in the beginning of May this year, since she had no idea we were going to Alcudia until we got there and not to such a classy hotel. Her room were quite spacy – having a double room all to herself!
This hotel actually is a romantic selection, so that's why we couldn't share room, it were not allowed. There was wonderful atmosphere – romantic yes, but also relaxing because no kids are allowed at the hotel, giving the guest total peace.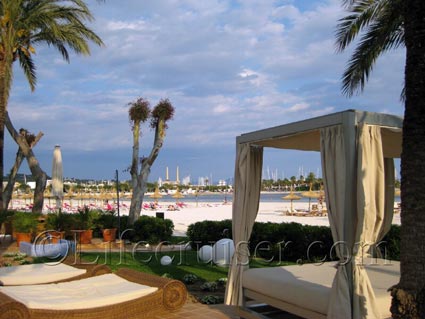 You could rent those roof'ed beds together with a serving of Champagne, to have a romantic evening in the garden if you wanted to. For us it felt a bit strange since we were 3, but we seriously considered doing it anyway…
We really had a great stay at this hotel, with some live music in the evenings and some activities at the poolside handled very well by a very nice young man, Alberto, employed by the hotel to entertain the guests.
Hubby did beat him in dart (go, hubby go!) and they had a nice session at the grand piano later, since Alberto is a great singer. Unfortunately they had some problems finding songs they both knew, but never the less it was a nice session.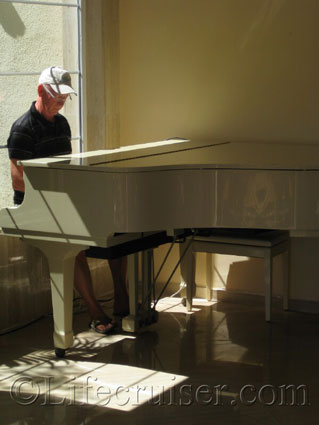 Jane really looked forward to get a sun tan. One day we did drive along the coast to maybe find another nice beach. We ended up: at home again! The best beach were right at the hotel!
Since Jane wanted it too, we had some relaxing nice days at the hotel pool, even though the pool were a bit cold in the mornings before the sun had heated it up.
What do you think, does Jane look like she is suffering? *giggles*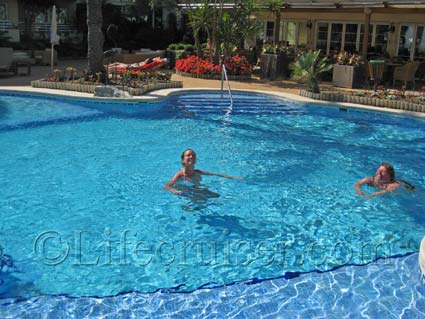 The only thing that made me disappointed were the dinner buffet. The breakfast buffets were better than the dinner buffet. At least the one we had there.
We did eat out most of the time though, so it might have been just that evening.
There will be more photos from the gorgeous Alcudia beach in the next post that will make you wanna go there!
Tips: See all Lifecruiser Hotel Vanity Golf Photos.
Lifecruiser ♥ Alcudia Beach