In Sweden the golf season has just started fully now when the weather has become warmer and the grass begin to grow properly to make good enough greens. That reminded me of our photos from a golf trip we did last year in June, to the southern Sweden and the Hooks Mansions Golf Course.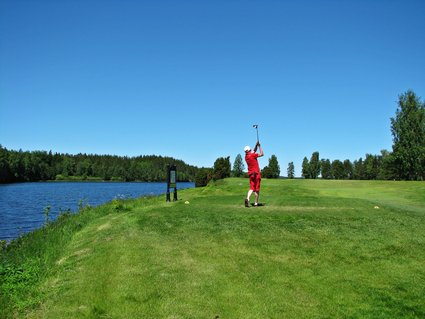 Yes, that's a true Lifecruiser golf swing….lol… Hook's golf course was as lovely as the weather and they have two courses, one park and one forest course – I did like the forest course much more than the park course, because it was more of a challenge.
Golf courses most often offers really beautiful nature too, which you can see in Lifecruiser Hooks Golf Course Photos at Flickr.
Hooks official webpage: hooksherrgard.com.
©Lifecruiser Love Golf
Some other golf related posts by Lifecruiser:
Orlando Top Golf Vacation
Enjoy UK golf breaks and take in these top three courses
Swedish Golf Season Start 2011
Golf self-reflection
Golf pleasures in and out