We could almost not believe our eyes when we found The Miller High Life Cruiser – not only an absolutely fantastic ambassador for one of America's best known beers: Miller High Life, but that it actually got our name written on it!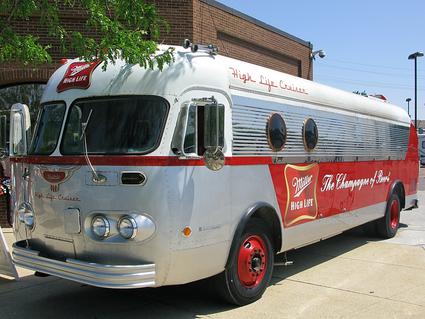 Photo by Al_HikesAZ
See the name up on the bus: High Life Cruiser? (click on the link under the photo to see it enlarged at Flickr)
When we saw that it got the text: "The Champagne of Beer" on the side, we felt that this SHOULD BE our bus – don't you agree? I mean, both Life Cruiser AND Champagne mentioned at the same time, how close can it get?
The Miller Brewing Company's High Life Cruiser retro design recreation above is very similar to the Flxible Raised-Roof Clipper Special that they had in 1953 to travel around the USA in celebration of High Life's 50th anniversary.
It's said that there is a ten foot plastic replica of the Miller High Life beer bottle that can be raised hydraulically through the roof of the cruiser.
I would change that to a Champagne bottle though if we had that bus… *giggles*
Unfortunately rumors say that they paid something around 400k for the new High Life Cruiser and that is just "slightly" above our budget!
Such a pity. We would have loved to go from coast to coast through United States with it…
Lifecruiser ♥ Retro High Life Cruiser