Interested in meeting someone that has done what at least I only dream about? Lifecruiser have interviewed Andy Hayes, who has escaped the 9-to-5 routines and is doing travel-related stuff full time now!
He is not traveling full time yet, but he's doing serious travel writing, even real books. Besides that, he lives in Scotland, which I think gives enough material for some really interesting stuff!
Sit down, relax, have a Scotch Whisky, read and enjoy….
When did your passion for travel started? What do you think triggered it?
I grew up in a very small town, so my first "long haul" holiday was to the Caribbean island of Aruba. Relaxing in the sun, riding motorbikes across the sand dunes, and eating up delicious foods from around the world while our friends of the same age were sitting at home, I was hooked.
I think perhaps it came from growing up in a very conservative and poorly-travelled family, so when I first had those international experiences they were so rich and powerful, I was overcome with an incurable travel bug.
How many countries have you been to? What country or multi-destination trip is your absolute favorite among your trips?
Good question, I had to count: 35 (using the Wikipedia list of sovereign states, just to be clear). It doesn't seem like a lot, actually, but when I close my eyes and think back to all those wonderful experiences, it is a tremendous amount of "stuff."
Spending a number of weeks wandering around Australia and New Zealand is without a doubt one of my fondest trips in recent memory. In Australia, it was disappointing to see so much and yet have only covered a tiny strip in the south-eastern corner of the country. I must go back and explore further. Melbourne really struck me as a spectacular place – when the silver skyline of the city appeared shimmering in the distance as the airport bus sped through the heat of the countryside, my heart swooned. But it wasn't just a pretty façade; I found the Melbournians (is that what we call them?) so friendly and nice. The food was some of the best I've had in the world – a terrific fusion of European and Asian influences. And I think the gorgeous shoreline in St Kilda speaks for itself…
Do you have some special memory from a trip, something special that happened or a special photo to share with us?
When I think about all those miles travelled, there a two specific things that come to mind:
- Sitting on the cobblestone terrace outside Restaurant Salzamt in Vienna, one of my three favourite restaurants in the world. It was a warm summer night, a special experience in itself, and we could hear the gentle hum of the violin of a street artist playing nearby. The red wine was somewhat fruity and quite refreshing. The streetlights in the courtyard were dim but gave just enough light to our table, and if you looked up you could see the steeple of the neighbouring church lit perfectly. Each course of food was better than the next – it was truly a meal to remember.
- In New Zealand, I went to Fox Village specifically to experience a sunrise at the mystical Mirror Lake. The hotel I was staying at offered me the use of one of their bicycles to get to the lake early that morning, since I wasn't travelling by car. However, I'm probably one of the only people in New Zealand history to actually lose his bag on the bus service! They had dropped it off in the previous town by accident. So I went one night without my bag. Normally this would not be a big deal, but this meant that I awoke at 4:30AM in the dark to jump in a bike in shorts and sandals and pedal my way in the freezing morning air to then walk a couple of miles around a lake in the dark – muddy paths and mosquitoes included – to see this sunset. It was a rough ride, needless to say. But the scene I witnessed unfolding by Mother Nature herself was unreal, and I was one of only a couple people there to see it. It was definitely worth it.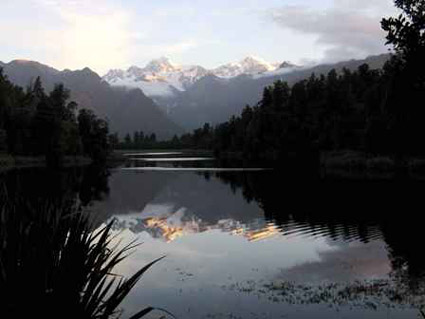 You're based in Edinburgh, one of our favorite capitals, since we love Scotland almost as deep as we love Champagne *giggles*. What do you recommend to see and do at a visit?
I'd definitely place Edinburgh and Champagne in the same category – a lot of people think they're only good for special occasions, but in fact you should treat yourself to them whenever possible! Yes, Edinburgh is such a charming and wonderful place and I am so pleased to call it home.
I'm actually publishing an "Edinburgh Historical Walking Guide" next month (watch my blog for details) which will have all of the best things to do and see in Edinburgh. My top tips would be – in no particular order:
- Go for a walk along the Water of Leith. It's such a refreshing new perspective on the city. The most scenic bit is between Roseburn Terrace and Stockbridge.
- Do the night tour of Greyfriars Kirkyard. It is pretty spooky, but the guides are excellent and offer factual insights that you don't often hear on other tours.
- Eat. Edinburgh has the highest number of restaurants per capita in all of the UK, and a huge array of cuisines – from Polish to Modern Scottish to Greek.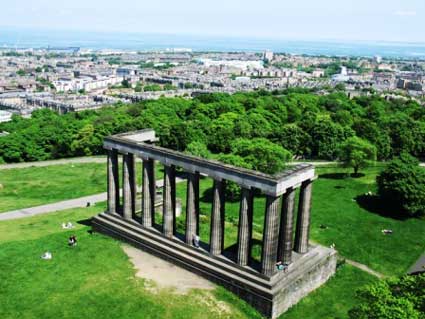 How about the rest of Scotland, what do you say are must-see locations or attractions besides searching for Nessie and trying to look underneath the Scots kilts?
Those are two obviously good first choices, indeed. I personally love Pitlochry which has some great walks and is a picture postcard village in the autumn when the leaves change colour. Isle of Skye is good but very busy – try another one of the village/islands on the west coast and get some peace and quiet.
You have been to Sweden, what did you think about our cold country and cool people? Honestly, I won't be offended if it isn't your absolute favorite!
I've always loved the Scandinavian countries, and Sweden in particular. I've not explored much – mostly Stockholm and its surroundings – but it was a good taster and look forward to coming back soon. In our grade school we had a Swedish exchange student, so I had exposure to the Swedish food she would bring in and had heard some of the presentations she gave about Sweden, and the country lived up to the expectations she gave it! Stockholm is so stylish and the locals all look so happy and full of life. The streets were spotless and the food was tasty. Obviously there is more to Sweden than ABBA. :
What do you want to see next time you're coming back here again? Besides from us I mean…
Well yes, we'll be catching up over a few drinks, by beyond that, I'd love to go see:
- the colourful houses and towers of Visby
- the Midnight Sun and the Northern Lights
- the castle in Landskrona
- the harbour in Mölle
Lifecruiser comments: You can find a lot of information about our favorite Visby at Gotland.net. The midnight sun is awesome and we too want to catch the northern light, such a magnificent phenomena! Landskrona Castle Citadel is awesome too and if going there this year, go the 29th or 30th of August when they're having Medieval days with tournaments. (Use Google Translate to translate the Swedish pages). About Mölle we don't know much. Very interesting choices!
What is your upcoming travel plans?
I'm sure you heard, but I've just left my 9-to-5 job and now I'm doing my travel stuff full time! So I am taking some time to get my business set up properly – I'll still be doing plenty of writing but I'll also be helping small businesses in travel and tourism take advantage of online technologies. You can read more about my services on my website – I publish a monthly newsletter with online tips and tricks for businesses and if you signup now you can get a free copy of my ebook, Preparing for Takeoff: "7 Common Mistakes Businesses Make when Going Online".
So once I've got that setup I have my sights set on a beach holiday – we're looking at Fiji. I'd also like to spend some time in Eastern Europe, such as the Baltic states where I haven't seen much. And as silly as it sounds, I want to head up to the very north of Scotland and just spend some peaceful time up there where it is nice and quiet.
For further reading about my travels, a couple of my most favourite blog posts are Touring France with Julia Child and Sensory Overload in Hong Kong.
Lifecruiser comments:
Andy has lots of very interesting articles and a great portfolio (not to mention gorgeous photos!), so this really was an honor for us to return the favor, since he did a wonderful interview of Lifecruiser a while ago!
This actually was Lifecruiser's first interview victim…. *giggles*
Simply go there to explore more and enjoy!
Lifecruiser ♥ Interviews
PS. Don't miss Andy's free stuff!!!!