This is day 6 of our Kauai Escape posts – a series of posts that span over a week exploring this wonderful island.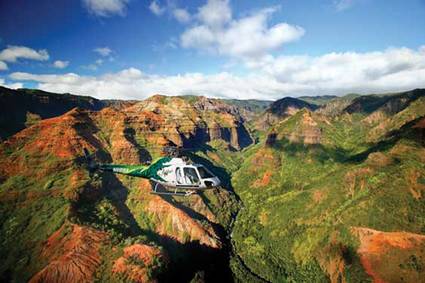 Day 6 – Hawaii's Grand Canyon from above
It would be a sin to go to Kauai and not see the famed "Grand Canyon of the Pacific".
Waimea Canyon on the south side of the island is 3,600 feet deep, 1 mile wide, and 10 miles long. The exposed layers of lava on the sides of the canyon are reminiscent of Arizona's grand canyon.
Today we get to see this masterpiece from the sky. Safari Helicopter Tours takes us on a flight that includes an in depth look at this immense canyon. The helicopters have windows all the way around to give us a full panoramic view.
A look at the layers gives us a window into the historic forming of the island. Every layer of lava is a new volcanic eruption. Combined these numerous eruptions made up the whole of the island over millions of years.
Imagine this truly amazing sight!
Lifecruiser ♥ Hawaii's Grand Canyon
To be continued tomorrow….

Earlier articles:
Sunny Poipu – Day 5
Princeville Zipping and Rowing – Day 4
Ke'e Beach – Day 3
Na Pali Coast – Day 2
Kauai Escape – Day 1