Every year before New Years Eve, our traveler hearts and minds are filled with different travel plans, expectations or even travel destinations dreams. This upcoming year is no different. May our trip dreams come true, whether they are short or long, joyful or interesting or as always: very educating.
For us, the most important choice for New Years Eve (or birthdays), is the one and only: what Champagne to drink…? Below you see three different choices, from a cheaper Crémant to expensive Champagne.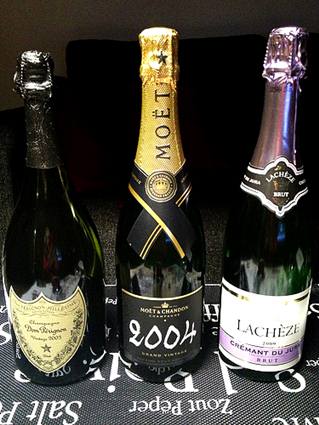 Lachèze 2009 Crémant du Jura, Moët Chandon Grand Vintage 2004 and our very favorite Champagne, the Rolls Royce of Champagne: Dom Pérignon Vintage 2003, which we brought home after visiting the Champagne district in France at our Europe trip in August 2012.
As you have noticed, so far we prefer French, real Champagne – we yet have to taste more Cavas when we go to Spain later to have something to compare with – or what do you say…?
We wish for you all another very special, fantastic Happy New Travel Year of 2013, together with friends, family and filled with lots of love, passion – and Champagne of course…
©Lifecruiser Love Champagne

Some other New Years posts by Lifecruiser:
Happy Bubbly New Year 2012
Happy New Year Champagne Sweden 2010
Stockholm: Happy New Year (2009)