Today is the Midsummer Eve in Sweden, perhaps the most Swedish holidays of them all. The day is celebrated together with family and friends, dancing around the maypole for some and good food and drinks all night long – in the midsummer sun.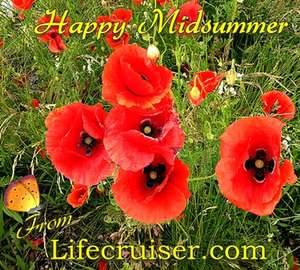 Yes, you read right: the midnight sun. The sun don't really set at this time of the year in Sweden. It never get really dark. That is: if it's not raining, which it use to do. The weather almost always is very shifting at Midsummer, making the outdoors activities more exciting – you never know if you're going to be soaking wet or not!
It's also a very romantic evening, when you're supposed to find your love, so if you want to catch a Swedish girl: come to Sweden at Midsummer…
You can read more about the Swedish Midsummer celebrations in old posts listed below. Happy Midsummer holidays everyone!
©Lifecruiser Love Swedish Midsummer
Earlier posts about Swedish Midsummer:
Typical Swedish: Midsummer Strawberries
Swedish Midsummer 2011
Midsummer night light sight
Swedish Midsummer festivities Bromma Church Stockholm
Happy Midsummer Stockholm
Our Midsummer celebration trip 13 facts list
Thursday Thirteen Midsummer
Midsummer flower power love