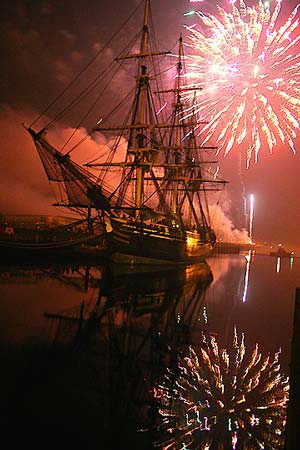 Photo by Rick
You can see what I've been up to in the past year in my Archives OR some of what the fantastic Lifecruiser Cyber Cruise have been up to in the Lifecruiser Archive 2007.
There are a lot of goodies hidden there, which really should be bring forward in the spotlight of the fireworks!
We can also see a bit of what's coming up in Coming Cruise Events, which make me say that 2008 will be a very exciting year.
Thanks from the deep of my heart for this wonderful blogging year and let's have equally hilarious fun in 2008, my dear cruiser friends!
*opening up the bottle of Dom*
*spraying the whole ship with giggle water*
CHEERS MY DEARS
Captain ♥ Lifecruiser
Don't miss:
Caledonias shortbread recipe
Caledonias Hogmanay in Scotland
TorAa's mix with the past year and Jardin in Argentina
Happy New Year from RennyBA
A.s Zizi sexuel l'expo
Claudie who will write about Avignon
Mar's Feliz Navidad
Snowy photos and New Years resolutions of Maribeth
Have some laughs over at Gattinas
More laughs over at Hootin' Anni
Congratulate Sanni for being pregnant again

…and more is to come!!!