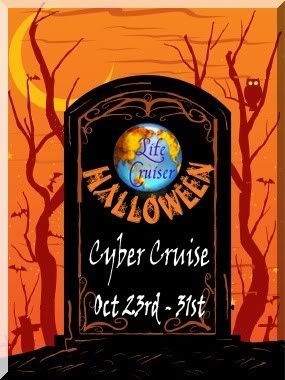 Announcement:

Lifecruiser will celebrate Halloween the 23rd – 31st of October!

♥ All bloggers that dare are welcome!!!!!

Be aware: other ghosts might show up!

---

1) Tuesday 23 October:

Your oddly ghost Halloween post. Meaning that we all are going to tell about our own oddly ghost Halloween on our own blogs. Comment Lifecruiser post that day so we know where to head for a frightening cyber cruise tour around all haunted blogs!

---

2) Thursday 25 October:

Share your scare! Tell us in a blog post (old or new) about something scary you've been experiencing or have scared others with – not necessary at Halloween, but still a good scare Leave a comment here on Lifecruiser with a link to your post, so we know where to go -
if we dare…

---

4) Saturday 27 October:

Halloween in Oslo! Two of our Viking A-team Cruisers are getting us to Norway to celebrate with them!

---

5) Sunday 28 October:

Make a post about your Urban Legends, by request from our A-Team Cruiser Sanni!

---

6) Tuesday 30 October:

Tell us: How do You Celebrate Halloween? We'll have a cyber cruise around all haunted blogs once again.

---

7) Wednesday 31 October:

A spooktacular Halloween Party!!!

Lifecruiser will hold a haunted open house until witching hour – all witches, goblins, ghosts, spiders, spirits, black cats, howling wolves, monster, creeps and other scary creatures are invited!!!

Make sure you post your costumes (faked or real) at your blog, so we can see them – and eventual other things or monsters you'll bring with you…

We'll haunt you until you come, so take a cyber flight to our Halloween night fright :-O

Nothing can beat
some trick and treat!

---

Have any other suggestions or tips?
Send me an email!

---

Help us spread the word – and I'll link to you!

Write a post about it and display a button with a link to Lifecruiser in your sidebar:

Click here to grab Halloween Buttons!


(Made by our beloved Sanni! Puss och kram!)

Captain Pumpkin Lifecruiser
Don't miss to go to the Oktoberfest in Munich with Sanni, our Monday cruise stop!

But first, check the Oktoberfest Dictionary!

Last Cyber Cruise Event:
♥ Lake of Garda in Italy
♥ Celebrity Day on Murphy's Laws Maui Cruise
♥ Uxmal and Yucatan Peninsula, Mexico
Coming Cyber Cruise events:

♥ Octoberfest in Munich Day 2 (Tue 2 October)
♥ Olive tree's fest in Ollioules (After 6 Oct)
♥ LC Blogwarming Party (Middle October)
♥ Your oddly ghost Halloween post (Tue 23 Oct)
♥ Share your scare! (Thur 25 Oct)
♥ How do You Celebrate Halloween (Tue 30 Oct)
♥ Halloween Party (Wed 31 Oct)
♥ Corfu, Greece
♥ Denmark – Germany
♥ Algarve, Portugal
♥ The East Coast of Scotland
♥ The West Coast of Scotland
♥ Fuerteventura, Spain
♥ Miami, US (November)
♥ Panama Canal (November)
♥ Buenos Aires – Argentina (Second half of December)
♥ Foz do Iguazu, Brazil/Paraguay (Second half of December)
♥ Riga, Latvia(Changed!)
Do you want to hop aboard at next event?
Read about Cruiser Grades.

Read more about Lifecruiser cyber cruise.
Lifecruiser Archive 2007
Lifecruiser Blogroll Code
Cyber Cruise Souvenirs
Lifecruiser Cyber Cruise in Technorati

© Copyright
Lifecruiser.com
. All rights reserved.