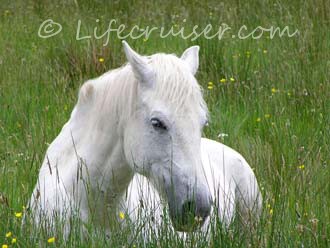 ♥ Green Thumb Sunday ♥
We managed to take a road trip yesterday after all, I'll write more about it later. The photo is not from that trip. This is a Scottish horse, not that it's any difference from Swedish horses – no bagpipe under the arm

It was on pure stubbornness I managed yesterday. Today I need to have some Sunday rest, but we're going to my brother Roland (we call him Rolle) for dinner. He and his family is very easy going thankfully.
Though I almost wish I could stay in bed instead… But we've been talking about this dinner for such a long time now and always something comes in between, so now we're determent to make it happen. *giggles*
Do I dare to mention that I also got toothache on top of everything else in the post below? And no whiskey to hush it with? *giggles*
One of my newest porcelain crowns is cracked. Bad dentist I call it. Too thin porcelain – just enough to make it over the guarantee time. It's expensive to make porcelain crowns and now I have to pay for it once more.
I don' go to the same dentist any more as you understand. I already have an appointment with a another dentist on Tuesday, for examination and tarr only. I hope that I can get another appointment fast for the cracked tooth.
So, do you agree with me that I need a Sunday rest? *giggles*
DON'T FORGET TO HOP OVER TO THE MARVELOUS MAR TO CONGRATULATE ON HER BIRTHDAY!
CHEERS TO MAR!
Captain NeedaRest Lifecruiser
♥ Don't miss Lifecruisers Halloween 23-31 October, with a spooktacular Halloween Party the 31th! Read more about it here!

All bloggers are welcome, come you too!

Help us spread the word by displaying a button in your sidebar – with a link back to this blog – grab them over at Sanni's blog!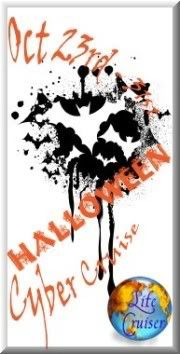 Coming Cyber Cruise events:

♥ Olive tree's fest in Ollioules (After 6 Oct)
♥ LC Blogwarming Party (Middle October)
♥ Your oddly ghost Halloween post (Tue 23 Oct)
♥ Share your scare! (Thur 25 Oct)
♥ How do You Celebrate Halloween (Tue 30 Oct)
♥ Halloween Party (Wed 31 Oct)
♥ Strömstad, Sweden
♥ Corfu, Greece
♥ Denmark – Germany
♥ Algarve, Portugal
♥ The East Coast of Scotland
♥ The West Coast of Scotland
♥ Fuerteventura, Spain
♥ Miami, US (November)
♥ Panama Canal (November)
♥ Buenos Aires – Argentina (Second half of December)
♥ Foz do Iguazu, Brazil/Paraguay (Second half of December)
Do you want to hop aboard at next event?
Read about Cruiser Grades.

Read more about Lifecruiser cyber cruise.
Lifecruiser Archive 2007
Lifecruiser Blogroll Code
Cyber Cruise Souvenirs
Lifecruiser Cyber Cruise in Technorati

© Copyright
Lifecruiser.com
. All rights reserved.