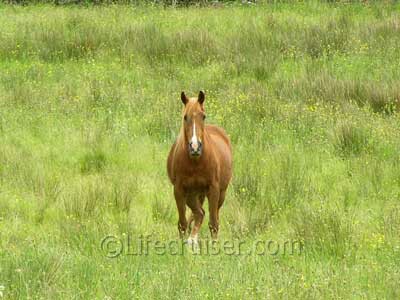 ♥ Green Thumb Sunday ♥
Another horse in Scotland, giving us the true green f(r)ee feeling. There is nothing more peaceful and freedom feeling than a horse in a green meadow…
And I must say that it looks very inviting, considering that we've had a little snow here. It's not much enough to cover the whole ground and it won't last, but still. Snow. I don't want it.
Luckily we've just shifted to winter tires. Our car has got a thin layer of snow on it and we noticed a moment ago that the locks are so frozen that the key didn't go in, so we'll see if we managed to get into the car during the day!
The only time I can admit that it's nice with some snow, is around xmas, then it can go away… *giggles*
We had in mind that we would go away both in the autumn and for the xmas this year, somewhere warmer where Miss. Ass. Lifecruiser had moved, but it seems like that plan has gone down the drain unfortunately.
Both myself and my best friend Miss Ass. Lifecruiser has been sick. She is more seriously ill than me, so she hasn't been able to move from Sweden yet like she had planned to. She has come to a better hospital this time, so hopefully she'll get cured soon.
We're having a Sunday rest over here, we've been up too late lately. I passed out rather early at the Friday's Ship Launch Party since we hadn't have any sleep at all the night before…
Captain GreenFree Lifecruiser