When we were out sightseeing in Mariestad I saw a graffiti painting at a wall beside some railway tracks that I couldn't resist catch with my camera. I call it Graffiti Wake Up Girl.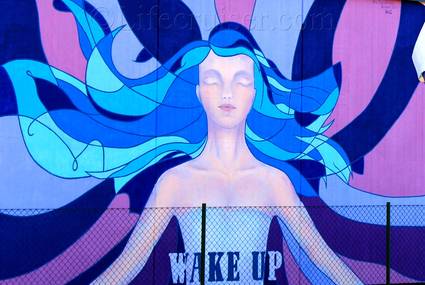 When out traveling and taking photos, you look differently upon all surrounding things. You notice so much more through a camera lens generally, even at home.
Things you've never noticed before suddenly catches your interest and you might be amazed over this whole world that is opening up for you. Grab your camera and go out on a photo hunt.
More photos from Mariestad will come later. Tonight is our last evening here in Mariestad at our blogger meetup, so there will be some festivities tonight too as you can imagine…
©Lifecruiser Love Blogger Meetups

Other wall art travel photo posts by Lifecruiser:
Photo Mall Wall Art
Lennons Love and Peace Wall Prague
Travel Photo: Prague Bankomat (fake)
Prague Ghostly Dripstone Wall