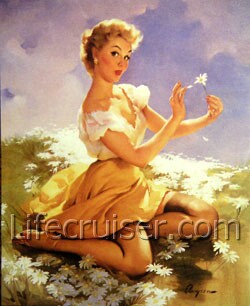 Daisies Are Telling (Love Me, Love Me Not), 1955.
Oil on canvas. Gil Elvgren.
© BROWN & BIGELOW, INC, ST.PAUL, MINNESOTA
This picture reminds me more of school, graduation and summer holidays then the "Love Me, Love Me Not" telling part. Ah, those lovely summer holidays…
OK, I know that there isn't any word like maduation, butt it should be

Over here in Sweden, the graduation has taking mad proportions nowadays comparing when I graduated in the late seventies.
Back then we didn't even wear any graduation hats (it wasn't cool!) and were not so dressed up and only had one graduation dance / party(not ball, more like dance or party). The Disco style were very trendy then.
The kids graduating today are all for going out school with style. All dressed up, champagne breakfasts, party and party on party, riding on a big truck at the graduation day around the city screaming and singing, then a party at home and going out in the night!
Tuesday we were at Mr Lifecruisers nephews graduation party and today my nephew is graduating, so we're off in a minute to catch him at the School!
I might update this post with some photos later.
The report from the steamboat parade we went on yesterday have to wait. In the meanwhile, why don't you have a look at the celebration post below this?
Captain Mad Lifecruiser
UPDATE: You can see all the graduation photos here to get a picture: how a Swedish graduation is nowadays.

Do you want to hop aboard at next event?
Read about Cruiser Grades.
Read more about Lifecruiser cyber cruise.
Cyber Cruise Calendar 2007
Cyber Cruise Souvenirs
Lifecruiser Cyber Cruise in Technorati