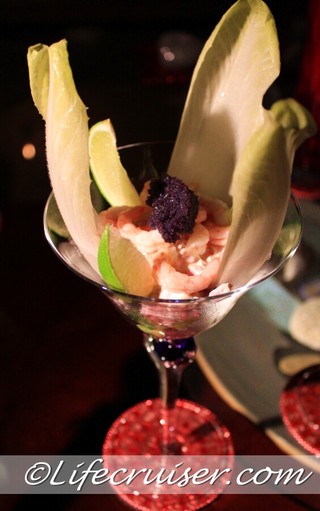 Gourmet Shrimp Cocktail With Champagne Onion Recipe
(6 portions)
Ingredients:
300 gram peeled fresh shrimps
1 big red onion
1 ½ dl Champagne or dry sparkling wine
200 gram creamy cheese of Philadelphia type
2 big avocados
Half a garlic clove
1 tsp + 1 tsp fresh lime juice
1 can black caviar (75 gram)
Lime cloves as garnish
Endive leaf as garnish
salt, white/chili pepper
Tips: If you have other measures in your country you can find help at onlineconversion.com under cooking.
How to prepare this:
Peel and chop the onion. Put it in a frying pan and pour the Champagne at it. Let cook until the the fluid has steamed away.
Take it away from the heat, let cool off and add it into the creamy cheese. Put the hash in a covered bowl in the fridge.
Cut the avocado in halves, remove the pit and take out the pulp. Hash it in a bowl together with the garlic and 1 tsp lime juice. Taste off with white pepper and/or chili pepper.
Put the shrimps together with the other 1 tsp lime juice.
Put the Endive leaves in 6 glasses standing right up like in the photo above. Portion out the avocado hash in the glasses. Put the cheese- and onion mix on top of the avocado. Then put a layer with shrimps on that and put it in the fridge.
When serving: Put the black caviar on top in every glass. Garnish with lime cloves.
I've eaten many different kind of shrimp cocktails in my life, but I tell you: this is the one I love the most! Delicious!!!
What we did drink? Champagne of course! Cheers my dears…
©Lifecruiser Love Gourmet Recipes
Other recipe posts of Lifecruiser:
Swedish Boob Bombshell
Mediterranean Omelette Recipe
Mothers Swedish Meatballs
How Swedes makes pancakes
Swedish Rocket Fuel Soup
Swedish Crispbread
Lucia with Glögg and Lussekatter