The above photo is taken somewhere at Gotland (Fårö island belongs to Gotland island), which is known for it's gorgeous Poppies as well as the Gotlandic Hansa town Visby is known as the town of Roses.
The other photo is taken here at Fårö, in the fields above the farm, where a neighbor has arranged a simple golf course in the fields. While hubby did swing his golf clubs, I used the camera…
Poppies has always been one of my favorites – especially together with some Bluebonnets or Blue-weed. This limestone rich island with it's mild, sunny and damp enough climate is ideal for them.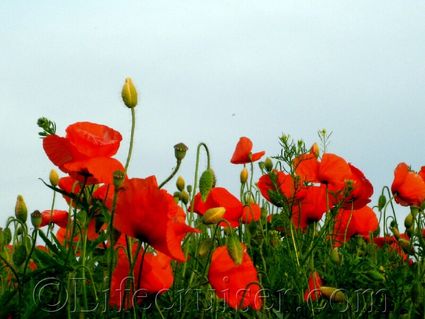 Those photos were taken before we had those awful heavy rains. I'm not sure of how the status of the Poppies is now after the downpours…
Today I got weat feet: socks, shoes were soaking wet – it was wet at hole #1 and I managed to hit it perfectly. *giggles*
We've enjoyed gorgeous sunny weather today, simply wonderful.
Lifecruiser ♥ Poppies