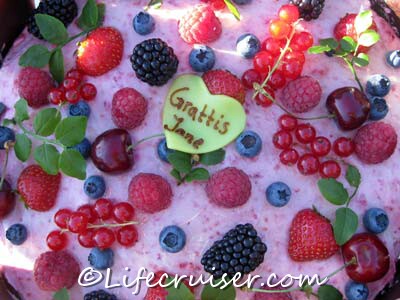 Grattis (Swedish) = Congrat's
So what is happening this week at our summer paradise island? Mostly celebrating birthdays. Mr Lifecruiser's daughter Jane went 24 years Monday, Wednesday Kari (the Norwegian girl) 27 and today, Thursday, Piccolo (Selene and Paco's son) will be 4 and we'll attend his birthday party.
Wohooo! Lots of cakes and yummy stuff! This cake is made by Sylvis Döttrar, the famous bakery here at Fårö, Lisa and Barbro who Mr Lifecruiser know since he has been here for 30 years this year.
Jane arrived to Fårö just in time for her birthday, she has been partying in Visby at Gotland for a couple of days. Every year there is something called Stockholmsveckan – a week when all the crazy Stockholm'ers go down to Visby for heavy partying. The Gotland'ers themselves is running away from the town this week, if possible.
The partying is so heavy that both the arrest and the hospital is highly loaded with youngsters. Luckily Jane made it with only some bruises from being thrown up and along the bar disk…!!! Phew. She may need a week of relaxing to recover…
As birthday presents from us she got one bottle of Bollinger Champagne, one bottle opener to hang around her neck (very useful), a book to read on the beach and of course, some money since she used all her money down in Visby.
We've decided to stay longer than we planned from the beginning. We felt like one week vanished because of Mr Lifecruiser's back cracking, so we wanted to stay one more week. There where no tickets that day, so we'll stay 1 week and 1 day longer, leaving in the evening the 8th of August instead.
Other from that we have been out on a couple of roadtrips. Two times to Slite because we went there to buy paint – the color Gotlands blue – and had a kitchen drawer with us as a color sample – and what happened? Yes, we forgot it there and had to go there one more time! *giggles*
We thought it were only one Gotlands blue color, but we learnt that every company has it's own color mix, even though you see very many similar blue colors on the houses at Gotland. Usually the houses are white with blue doors and windows, very charmy in our eyes. Together with all the Poppies in the island it's so beautiful.
We've promised to help Per, the farmer, to repaint his porch and windows. We're awaiting better health and steady sunny weather and then we'll start. He has too much to do himself to cope with everything. After all – he is going to be 80 January next year. The other night he went out on the sea with fishing nets, catching fish which he did smoke.
Of course we grabbed the opportunity to have a coffee and cake at the café Humle & Dumle between the rain showers too. There isn't much to do or see in Slite, but a stop at the café is recommended.
It took some extra time in Slite because we ended up in the middle of a movie making, it was the Swedish author Mari Ljungstedts criminal novels "Den döende dandyn" and "Den inre kretsen" they were making. Those novels are written located at Gotland and Fårö.
It's a German movie company that is making the movies and they've already done two of her books earlier and sent them at the German channel ZDF. They'll be all over the island to make those movies.
On the way to and from there we passed Visby too and made a short stop there in some stores. It was too crowded with people for our taste. Here is my favorites of those photos.
We did have lunch at Suderbys Herrgård (Manor) too, where Mr Lifecruiser managed to hit some golf balls. The restaurant there is excellent, very beautiful with old buildings combined with new ones and it was very lovely to sit out in the garden.

Mr Lifecruiser had pork filled with plums

I had Pangasius (Pangas catfish from Vietnam
Funny thing was that when we arrived we heard piano music and went in there and found an old friend, Gert Hansson, who was setting up his equipment because he was going to play that evening at a 60 years birthday party held there. He use to run the Karaoke evenings at the Sudersands Badrestaurang (Beach restaurant) up here at Fårö too.
We so enjoy being here. Unfortunately the camera isn't able to really catch exactly what our eyes is seeing, you have to imagine it even more amazing than in the photos.
They have promised much better weather from this week, so lets see if they're right!
I've filled up with some more photos here:
Lifecruiser's photos of Visby Summer 2008
Lifecruiser's photos of Gotland Summer 2008
Lifecruiser ♥ Gotland