Starting the 13th of September 2011, when you search for flight information on Google, for example "flights from xx to xx" you will see a Flights-link in the left-hand panel. That's because Google have bought ITA Software.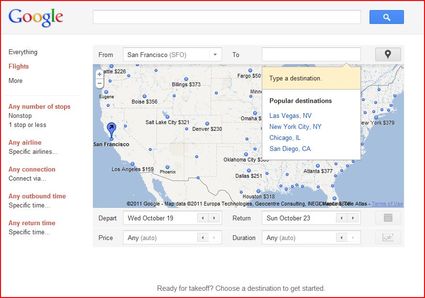 ITA Software
ITA Software's flight planning tool can simultaneously search over 500 airlines to come up with the cheapest airfare for you. ITA search engine is used by most major airlines, such as US Airways and airline fare sites such as Kayak.com or Bing Travel.
It's rather easy to use, you enter your dates and start the search. If you're flexible with dates, select "See calendar of lowest fares" and ITA will display the cheapest fares over a 30-day period for the major airlines. To purchase the ticket you have to go to the airline's website.
There are also tabs with tips about events, tours, attractions, and dining at the selected destination, presented below the calendar results with flights, which needs to be developed further.
There is even a mobile app for buying flight tickets: OnTheFly, for both iPhones and Android phones. I haven't tested any of them yet. If you have, tell us what you think about them.
Google flight search engine
Google bought ITA Software months earlier than the launch of the Google flight search feature and have worked on it since then to make it even better than before by combining ITA's knowledge and Google's technology.
As they say themselves, you will now get super-fast results, see a simple list of the most relevant flights, be able to figure out when to travel and consider your destination options.
Read more about it in the related post at Google Inside Search Blog: Early look at our flight search feature – especially watch the explaining video.
Bear in mind though that this is just the beginning. I'm hoping for much more in this flight search engines development, though I already love some features in this early version.
I really like how easy it is to search for alternative airports and change the dates. You get the results at once – even the airline names. I LOVE the interactive map which can show you prices around the destinations directly at the map, making the results much more visual.
Compare it to the original ITA Software I've linked above, then you more clearly can see the improvments done and perhaps also what is still missing.
Google are on the right track here and it will be very interesting to see how this develop during time and if there are any others who will follow their example…
Check it out yourself at google.com/flights and feel free to come back and tell us what you think about it!
©Lifecruiser Love Useful Travel Tools
Related Google travel posts by Lifecruiser:
Google Earth as a travel tool
Ving Charter shows destination hotels with Google Maps