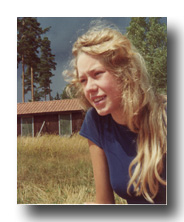 Those sweet memories! I am so dreaming about having a lot of hair as on this picture of me when I was young…. I've always had a lot of hair, until recently as you know.
Doc called me today to tell me that I have anemia and lack of iron. They don't know what's caused it. It can be the infection I had in Paraguay with the loose of weight I had, but it also can be internal bleeding in the digestive tract. That's why I also have to going through a further investigation where they goes down in my stomach and upper part of the colon to take samples. (Gastroskopi in Swedish).
They have to put me to sleep to do that, because there is NO WAY I'm doing that awake! So I guess I have to wait in the line for a while to get that investigation done.
I've now started a treatment with iron pills, we'll see how it goes, since it's easy to react on the pills. I also have to leave a sample of my..hm…sorry I have to say it – don't picture it *lol*… feces, so they can look after blood in it. So now you know what I'm doing for the moment *laughing*. So now I'm not only have poked around in my dogs poo but my own too…
I've also looked up all food that contains the most amount of iron and C-vitamines, so now I will eat a lot of all that stuff. This hungry monster don't have any problems with that

Did you know that you have to eat 2 liter of parsley to get the same amount of iron as in ONE beef? So it will be a lot of beefs here from now on!
I guess the hair loss will continue for a while and it will take some time (6-12 months) to get the hair back, so I'm still not quite myself on that part.
No one has come up with any cool nickname for me, not one suggestion, shame on you folks

What about:
1. Baldie Hawn
2. Bald Pitt
3. Moonraker
4. Iron woman
5. ………….
Hey everybody, keep the suggestions coming!!!