A lot of Swedes go to holidays to goa in India. Funny thing is that Goa means good in Swedish, so no doubt that you get a good holiday in Goa, right…?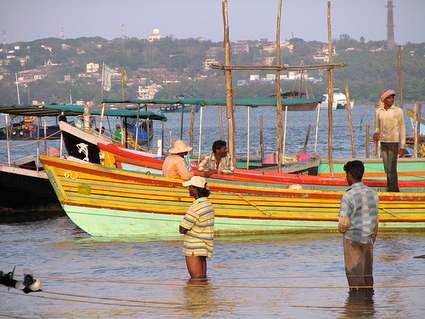 Photo by
wildxplorer
I've not been there myself, but have been looking at a lot of very beautiful and tempting photos today and this one above is just one of them. I love how colorful it is, that it shows the local people and not the tourists.
Two of the main reason why the Swedes choose to go to Goa on a holiday, is that it's very different from Sweden so there is much to explore, but also the climate. Swedes try to escape the winter in Sweden and Goa is one of the places where they can get sun and beach life during October-April.
Why Goa? I think that Swedes think that it's the easiest place in Indien to be a tourist, there has been charter trips with Swedish travel agencies since the end of the eighties. Lately more Swedes choose to book regular flights via London and Mumbai too.
If I were going there, it would be many things that I want to explore: markets, national parks with tigers and birds, Shanti elephant camp (to bath with them!), visiting a hindu temple, the old Goa capital city and the Braganza House in Chandor.
I would also go to the south part of Goa, to the not so crowded paradise beaches with very fine sand quality that reminds me of our Swedish summer paradise island Gotland. Except that we don't have any palm trees…
I would probably go both to the most well known beaches like Palolem Beach where the most of the hotels are, as well as far away from the normal tourist places as possible without ending up totally rural. Cola Beach is budget enough, to sleep in tents on the beach.
Most charter tourists from Europe end up up in the north of Goa in Calangute, Baga and Candolim, where there also are a lot of hotels and shops. The tourists that just want to relax and have a bit peace and quiet goes to Anjuna and Vagator – old hippie resorts.
If you're going there: try to also book local family-own hotels to support the locals and not only feed the big companies. And remember: it's forbidden to sunbath topless, look out for underwater currents and fallling cocos nuts…!
©Lifecruiser Love Goa Holidays