When we were in Provence, France, in August, Claudie & Pierre spoiled us like kids!!!! Pierre even stayed at home to cook while Claudie took us sightseeing. Need I to tell you that we were in heaven….?
The best was when Chef Pierre, who is a very caring person, surprised hubby with a delicious octopus dish he had made just because he had heard that hubby love it!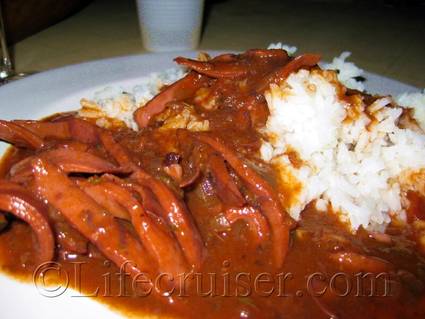 …and what did hubby think about it? Honestly: he did love it! It was the best octopus he had ate in his whole life!!! Talk about being spoiled….
Not only that, but he had made me a special fish dish since I don't like octopus - wasn't that the sweetest thing of him to do? Equally delicious I can tell you!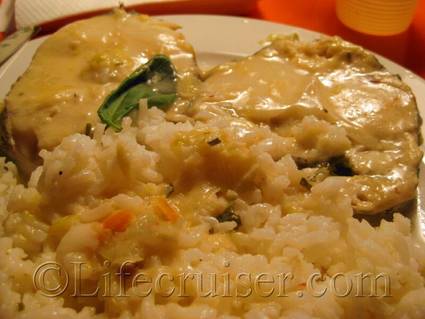 Another evening we had another fish dish, but I really can't tell what kind of fishes they were since we're not that good in French.
I think they tried to explain and showed us in the internet, but do you think I remember that now? *giggles*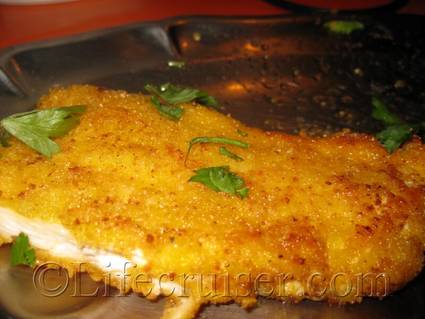 Something else very special and I think was very Provencale (?) was this soup - perfect in the hot evening - with the small breads in it with some kind of Aioli in them.
Claudie, what was the name of this soup?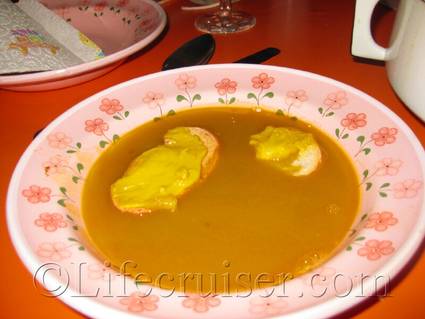 We also had a delicious Daube de Boeuf de Provencal one evening, where the coking time is many many hours, as in fact it's a bit similar as our traditional Swedish Kalops and we simply love that.
There were several occasions we simply forgot to take photos and just enjoyed - I'm sure you understand…
The beef he served us another evening was super as you can see for yourself… Getting hungry yet?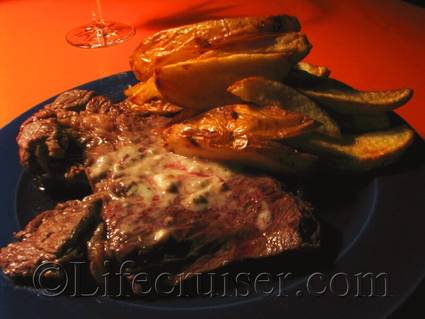 I was thrilled when I saw that they had a pressure cooker, but not surprised because where else if not in France should you spot one?
The principle for how it works were invented already in 1679 by the French inventor Denis Papin.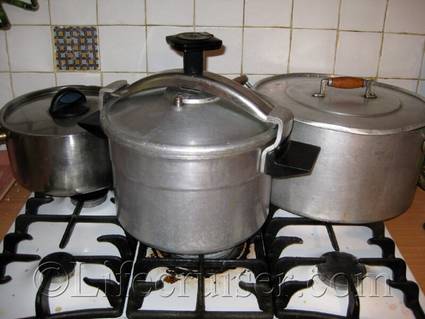 I haven't seen any one here in Sweden in ages. I think they started to disappear around here at the same time as the microwave become so popular.
It's a pity, because the pressure cookers are a bit like steamcooking - it cooks so much faster and keeps more of the nutrients.
Besides that: it's a greener alternative since it uses much less electricity/gas - something to think about in this global warming times.
….and no, it won't "explode" as those vintage pressure cookers could, the modern ones have several safety features…. *giggles*
Did you know that pressure cookers often are used by mountain climbers? They need to compensate for the low air pressure if they're at very high elevations, because up there the water boils at temperatures way below 100 °C and if not using the pressure cooker, their dinner may be undercooked!
Our dinner however, were not undercooked or overcooked: it was delicious every day of our stay - thanks to Chef Pierre - we still miss his cooking and Claudie's who did an excellent job showing us their Provence.
The last week now here at home we've been busy preparing to start our new health diet though: the LCHF Diet - LowCarbHighFat.
To cut it short: max 5% Carbohydrates in the food products, no pasta, rice, potatoes or flour (no bread), only vegetables from over ground, no sugar and lots of fat from cocosnut oil, pure butter, cream. No light products what so ever, there are unhealthy stuff in them.
Now we're on Day 3 and a half on the LCHF Diet and feel just fine! We'll go on for 3 weeks and evaluate the results then.
We might write some more about it later, let me just tell you that we've never eaten so much delicious food as we do now on this diet - it's almost like Pierres cooking!
Lifecruiser ♥ Pierre's Cooking

Earlier posts in this serie:
French Art Gallery Exhibition
France Bandol Beach Sunset
To Tour Toulon Too
Le Castellet Medieval Village
Vintage Marseille Soap Posters
French beach leach
Bloggers toast in France
Bloggers finally meet in France after three years of blogging
French blogger host lost
Start Fart of France Trip
Marseille Air Lair Stare
Pastis in Provence Southern France
Photographer beholder but not older
Connect Hotel Skavsta Airport