When driving from the airport in Marseille to Ollioules to meet dear Claudie in the town center, we used the GPS to find our way there. TorAa and Anna plus RennyBA and DianeCA went in another car and did choose to take some other roads though…
This meant that we didn't follow each other, they went ahead before us on the road. At one point (don't remember exactly where) we did take another road than they were and yet we somehow got before them at another part of the road further ahead! How mysterious!
They waved at us when they passed us again and continued. We did again choose another road further ahead and lost sight of each other again. It was like a fun game…. *giggles*
We did choose what I think was the old road which suited our way of driving: wanting to see things around and not only drive on boring motorways.
I really loved when this car pulled out in front of us – an old Renault R4, truly authentic French or what do you say?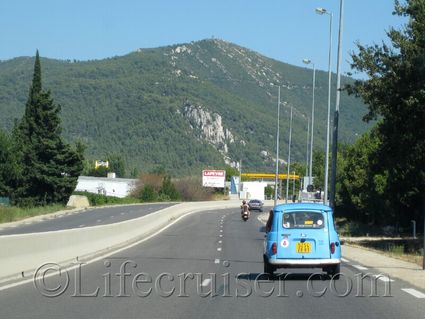 THAT would have been one heck of a car to rent instead of our boring Ford Ka!!!!!
This fun driving game also meant that we didn't arrive to the town center at the same time either. They arrived there before us, meeting Claudie as they should.
When we arrived there I was so happy to finally see Claudie after years of blogging together, I couldn't wait to get out of the car to hug her!!!!
….but, always those buts hah? The police were there and several other cars, so we couldn't even stop the car there!!!!
How disappointingly to just be able to pass her without stopping, just waving as we passed them – but also quite comically don't you think? *giggles*
So how and when did we finally meet Claudie then…?
(to be continued in next post…)
Lifecruiser ♥ France

Earlier posts in this series:
Start Fart of France Trip
Marseille Air Lair Stare
Pastis in Provence Southern France
Photographer beholder but not older
Connect Hotel Skavsta Airport