Of all the western European capital cities, Lisbon is perhaps the only one that could come close to being "undiscovered". Of course, this isn't exactly accurate, but the point is well-made; most summertime visitors to this westernmost European mainland country come on package deals to the Algarve or all inclusive holidays Portugal which can be wonderful – but they so often miss the jewel in the country's crown; Lisbon.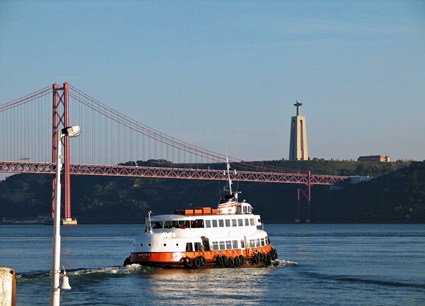 Lisbon river ferry with the Cristo Rei statue in background
This ancient port city, and Portugal's capital, has a huge amount to offer the discerning tourist coming here at the right time of year. "And when is that exactly?" I hear you ask. Well the best times to visit are just before or just after the main summer tourist season – so the ideal months are really April, May, June, September and October. At these times, the climate is usually perfect and the city isn't as thronged with tourists as it is during July and August.
There's so much to see and do here that you need to do your research and plan your trip wisely before you come. Lisbon is one of the few western European capitals with a river and a coastline. Its "Praça do Comércio" is the city's main square and meeting area – and isn't to be missed.
The Parque das Nações demonstrates how Lisbon maintains its close links with the river and its heritage and importance as a port city still today. In contrast, there are the city's mediaeval quarters of Alfama and Mouraria, with the castle towering above – a castle which is mirrored by the Bairro Alto on the opposite hill and which leads down to the city centre known as the "Baixa pombalina".
Meanwhile, Lisbon's parks and nature reserves are superb whilst its golf courses and nearby beaches offer a diverse vacation for those looking for a little of everything.
So to call Lisbon a "forgotten" city may be overstating the case – but don't make the mistake of missing out on this most diverse yet peaceful and European capital cities.
Lifecruiser Love Portugal
Other Portugal related posts at Lifecruiser:
Tips for nightlife in Algarve
Portugal Algarve Dream Stay
Portugal Trip Monte Gordo
Portugal Trip Tavira
Portugal Trip Ayamonte Spain
Enjoy a Memorable Holiday in the Sun
Top 5 All-Inclusive European Resorts
World Dogs: Portuguese Water Dog