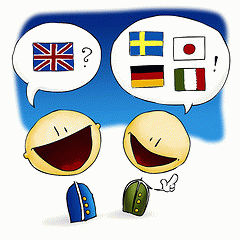 Picture by Markus
Even the most knowledgeable travellers can experience culture shock. Whether you're away from home on business or pleasure, here are five ways to make your stay abroad is both memorable and enjoyable.
Adapt to your surroundings
This is easier said than done, yet you really do need to be flexible. One way to fully immerse yourself into "local life" is to shun staying in a hostel or hotel in favour of the kind of practical living spaces available through companies like City Base Apartments. You'll feel far more relaxed and part of the local community if you're not living out of a suitcase in some soulless budget hotel or being crammed into a tiny room in a hostel.
Learn the lingo
Common sense dictates that, if you're heading to a new city, country or even continent, you'll do as much research as possible in advance to help you acclimatize to your new environment. Part of this should include learning a few key phrases and words in a foreign tongue if applicable. It'll instantly put you at ease when trying to communicate with others and gives you a useful building block. Obviously, it could take months or even years to become fluent so don't worry if you experience a few teething problems, but take it a day at a time and before long you'll have successfully set up a home from home.
Look the part
If you look out of place then you'll feel out of place. What we mean by that is to try as much as possible to blend in and that starts by dressing accordingly in relation to the local culture and climate. Little things like this can make a big difference.
Stay connected, stay positive
Everyone has good and bad days and it's only natural that, if you're a long way from home, you can quickly feel frustrated, isolated and alone. However, it's never been easier to stay in contact with friends and family via mediums like email and social media networks on the Internet, so log on regularly to keep everyone up to date with what you've been up to and that'll help to keep your spirits high. Through message boards and forums you may also be able to locate some of your fellow countrymen and women that are also living in close proximity to you and be able to make a few new friends that way.
Keep an open mind
Being prepared to experience new things is important if you're to settle in, even if it's just trying different food, listening to different music or trying different activities and pastimes. Get out of your comfort zone as quickly as possible and you'll soon banish any feelings of apprehension that may have crept in. If you adapt an insular attitude then your homesickness will only get worse.
Lifecruiser ♥ To Combat Culture Shock