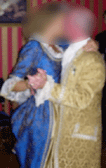 A good way to get to learn people (OK,
we admit that we mean women or
men) is on the dance floor.
What else opportunity can you find
that so fast allows you to get really
close to someone?
OK, maybe not so close as in this
picture, if you do not know the
person very well

If you can not dance, why not learn….? It truly is fun.
Move your butt out of the sofa and get in shape!
Take lessons in this online tutorial