Right now there seem to be many fabulous cruise deals for all kind of cruises, well worth to investigate! Cruises that truly are excellent and so valuable in many different ways, not only because they departure to top cruise destinations.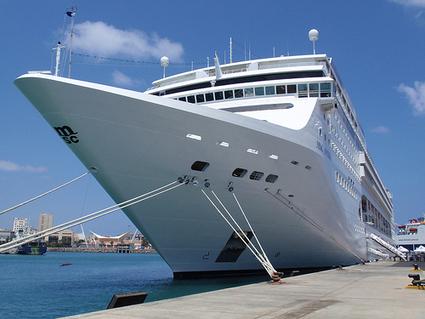 Photo by
El coleccionista de instantes
of the cruise ship MSC Opera
A cruise really is such an easy way of exploring several ports in a shorter time period at the same time as you spend valuable time together enjoying the very refreshing sea breeze. A perfect getaway the easy way, no tiring transportation back to the hotel room after a night out.
If it were not for the fact that we can't go on two cruises at the same time, I would definitely have jumped on one of these cruises – or other bargain offers I happened to stumble upon lately! But we have another cruise booked during the same time in May (Stockholm – Tallinn – St Petersburg – Helsinki – Stockholm).
Especially this very special MSC themed cruise which sounds just fantastic (and yummy): a chocolate cruise! Yes, with the international chocolatier Gerry Wilton aboard learning you all you need to know about chocolate, tasting samples, making truffles and here comes the most fun part: painting portraits in chocolate! That one alone I'd almost die for….
I bet they get the chocolate course full at no time! Lucky them, the persons that have booked that cruise, it departures the 13th of May from Southampton and for 11 days it's also makes visits to both Tallinn and St Petersburg – as in our booked cruise – but also to IJmuiden (which we will visit this summer!) and Copenhagen.
Why is it that I always stumble upon the best deals AFTER I've already booked another trip…?
Other fabulous cruises I recommend are to the Norwegian fjords (stunning scenery!) – or Galicia, a different part of Spain (with Santiago de Compostela, the medieval city of pilgrims), if you seriously are considering taking a cruise.
TIPS! Don't miss MSC's smart deals right now:
Venice – Bari – Katakolon – Santorini – Mykonos – Piraeus – Corfu – Dubrovnik – Venice
Barcelona – Marseille – Genoa – Naples – Palermo – La Goulette – Barcelona
Genoa – Civitavecchia – Marmaris – Limassol – Haifa – Katakolon – Genoa
Which one would you choose of those 3? I know, hard to choose, but I would choose them in the order I have written them. Fantastic cruise ports indeed and many of them have been on my wish list for a long time now…
How about you? What is your dream cruise? Been to any fabulous cruise? Any new cruises booked? Tell us all about it.
©Lifecruiser Love Cruises