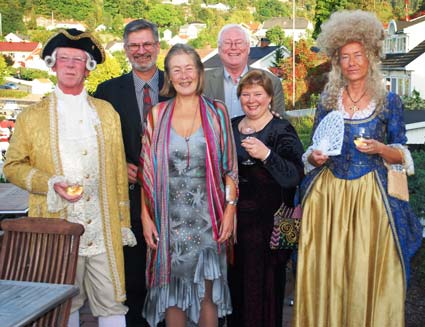 Mr Lifecruiser, RennyBA, Anna, TorAa, DianeCA, Mrs Lifecruiser
having a welcome drink at the terrace at the Hotel
We did go 1250 km back and forward to Norway (with some detours) to participate in Anna's 3×20 birthday celebration and have a bloggers meeting at the same time. That's no distance when it comes to blogger friends, right?
When we stepped out of the car, who was the first person to meet? Yes, we got to meet RennyBA for the first time face to face after having been blogger friends for so long time. After that TorAa and Anna, who we hadn't seen for over a year. What a wonderful bloggers hug fest!
When checking in to the hotel, Marjolein and Wim from Holland was the first unknown guests to meet. It really was very promising, because we instantly liked them very, very much. Such a nice couple – as all the other guests there, but that we had to discover later on.
The nights before the party we hadn't slept that well for several reasons and we had thought that we would arrive early to the hotel and get the chance to take a nap before the party. As so often, our plan didn't go through. We didn't mind though, because it was very nice to have an informal beer out at the terrace in the nice sunshine before all the guests arrived and the party really started.
One of the first guests to meet at the terrace was DianeCA, another wonderful blogger. It was such a delight to meet her in real life finally. She is such a sweetie. I'm so looking forward to meet her and Renny again and spend some more time with them in France next year together with our other blogger friends.
A very good start of the party, wouldn't you say?
Since all the guests we did meet out at the terrace even before the official vordrink, were so nice to chat with, we stayed out there a little too long, so we got short of time to change to our party clothes! (Typical us, to enjoy 100%!)
We had to change to our party dresses very fast, which isn't an easy task when putting on 18th century clothes including hip cushions and wigs that had to be secured from falling off! *giggles*
This also meant that when we arrived for the official vordrink (Sancerre), all the other guests already had gathered and we made a very noted entry. It's not every day you get to see 18th century clothes and especially not with my very tall wig.
Actually I find my wig very amusing, I ordered the hairstyle just because of that. Must have some fun, right?
Then it was time for dinner indoors at a very nice, bright room, with a very beautifully set table with sea shells decorations. How suitable.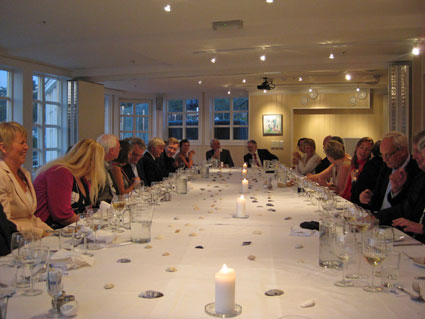 This was not any dinner. Wow! It was delicious. As you may have read already at Renny's and Tor's blogs, it was Scallops as a starter with Sancerre (white wine), Halibut as main course with Sancerre or Baujolais Thorin and as dessert Chocolate Mousse with dessert wine. After that Coffee Avec. Cognac, Calvados or Bailey's – all after your taste.
I was really enjoying my share of it and totally forgot to take photos as usual. This is what you have to be satisfied with from me…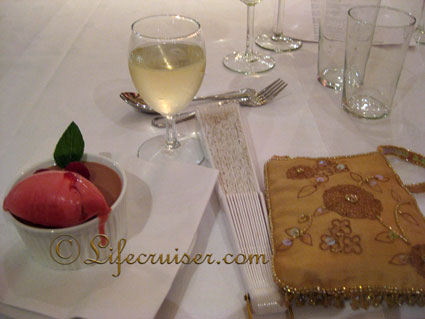 No need for this hungry monster to go hungry! *giggles*
During our time at the table there were a perfect mix of cheering, singing, heartwarming and fun speeches from their friends, family and of course Tor with his 3×20 speech and Ingelin as the very, very professional Toastmaster.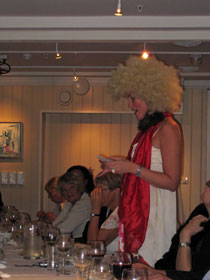 She was impressive in her performances and made us laugh time after time! There's a daughter to be very proud of!
Yes, even we did a speech, but that one I thought would be my next post. I'll try to recap the speech for Anna, so she can enjoy it once more, since it can be quite much to take for one evening with all the amusements that was.
It was interesting to see the similarity of how Swedes celebrate birthdays. No particular difference. Of course, our two countries are quite close to each other both physical and culturally.
After dinner there were a lot of mingling and dancing, everybody clearly had a great time enjoying themselves to 100%. No wonder with such a company. This was a wonderful compilation of persons without doubt!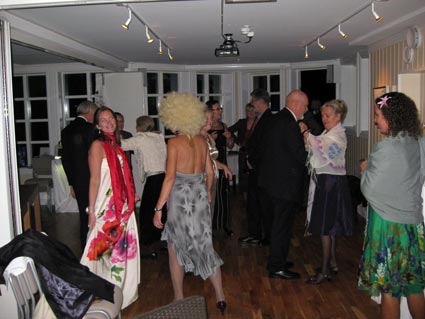 Needless to say, we had difficulties to stop partying, so we had a small bloggers after party at Tor and Anna's hotel room. Mr Lifecruiser in his role as the Baron hold his nobility manners and served up some Count of Monte Christo cigars for Tor and Renny – though they weren't as old as from the 18th century! *giggles*
For us, the party didn't end until 04.20 am and we were supposed to have had breakfast and be out of the room before 11 am. I was not awake…. but it was worth it!
Notice that we don't have as much photos as we use too? That's because we just wanted to relax and have some fun instead – and we sure did!
I do have a few very nice photos from the Hotel, which I'm going to write another blog post about later.
Thanks from the depth of our hearts, Anna and TorAa, for inviting us as your guests. It was truly a big honor and wonderful pleasure to participate in this very personal and heartwarming birthday party for Anna.
A precious party memory to cherish for a long time ahead. (You can read more about it over at TorAa Mirror).
Lifecruiser ♥ Party