Explore / Explorer
This is a statue of the world famous Linneaus, the Swede that over 300 years ago started to write the taxonomy we still use today. He could do that because he went out in the world exploring every plant in his way and writing systematically about it. He was a man that was before his time.
I want to urge us to explore the world more. Be curious, explore everything and I really mean everything, to not shut ourselves in, in our own lives only. We can benefit a lot from exploring the world.
There are so many interesting subjects to explore out there, if we give it the time. Open our minds, see every little thing as a new experience, with new eyes.
We should never take this world and all that's in it for granted. We'll never know when something is going to vanish, be extinguished or something else happen – we should enjoy it while it's here for us to enjoy.
This reminds me of a travel program I saw recently. They did travel with blind people. Yes, they wanted to travel even if they didn't see a thing! They could still feel the different atmosphere, smells, tastes, sounds and get the places described by the guides.
We could learn a lot from blind people. To really SEE things. To not take it for granted, even if it's our daily views.
Even if the things we see and experience is totally different from what we have at home and want for ourselves – we should see other cultures life and habits as an experience and opportunity to ponder and maybe even learn something from.
It's never a bad thing to get all-round educated.
Every traveller is an explorer in some way, even if only going on charter trips and laying on a beach all the time.
If every human being saw a bit beyond their own lives, maybe we should have a totally different world today… More understanding for sure.
I've been exploring quite a lot in advance about the places I've been visiting in real life, where to go, when it's the best time to go there and where the best place to stay is. That have saved our trips many times, made them to the very best experience we could have had.
Mr L and I have adjusted our trips to our own needs, interests and taste, making it to a success.
If we don't have the possibility to travel far, we at least have the opportunity to explore the world close to our own neighborhood. There is always new places to explore.
If we have a blog, we're even more lucky – then we can explore the blogosphere. There are so many excellent bloggers out here to visit and to get new impressions from – and learn things, not to mention make new friends

We did travel a lot between 2004-2006, before my health and other duties came in between and I missed it so much that I started the Lifecruiser Cyber Cruise early this year.
Obviously, there are a lot of explorers among the bloggers and we've had a blast in the past and many new cyber adventures are waiting us – just have a look at the impressive schedule in the end of this post!
The Cyber Cruise is giving us golden opportunities to have a personally made guide seightseeing tour at a lot of places, many of them not even described at any tourist brochures!!!! We get to see the places with very genuine local eyes many times.
I really appreciate to read what my blogging buddies think about that place – very often making me wish that I was there already!!!
I wish that all bloggers joined us at the Lifecruiser Cyber Cruise, but of course that is only wish thinking

Though I do wish that I've inspired you a bit by this post and you'll book a trip somewhere….
Please tell me if you do.
Captain Explorer Lifecruiser
♥ Don't miss Lifecruisers Halloween 23-31 October, with a spooktacular Halloween Party the 31th! Read more about it here!

All bloggers are welcome, come you too!

Help us spread the word by displaying a button in your sidebar – with a link back to this blog – grab them over at Sanni's blog!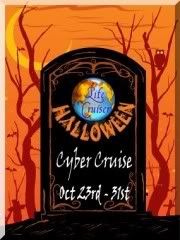 Coming Cyber Cruise events:

♥ Olive tree's fest in Ollioules (Mon 15 Oct)
♥ LC Blogwarming Party (Middle October)
♥ Your oddly ghost Halloween post (Tue 23 Oct)
♥ Share your scare! (Thur 25 Oct)
♥ How do You Celebrate Halloween (Tue 30 Oct)
♥ Halloween Party (Wed 31 Oct)
♥ Cebu, Philippines (Sat 3 November)
♥ Strömstad, Sweden
♥ Corfu, Greece
♥ Denmark – Germany
♥ Algarve, Portugal
♥ The East Coast of Scotland
♥ The West Coast of Scotland
♥ Fuerteventura, Spain
♥ Miami, US (November)
♥ Panama Canal (November)
♥ Buenos Aires – Argentina (Second half of December)
♥ Foz do Iguazu, Brazil/Paraguay (Second half of December)
Do you want to hop aboard at next event?
Read about Cruiser Grades.

Read more about Lifecruiser cyber cruise.
Lifecruiser Archive 2007
Lifecruiser Blogroll Code
Cyber Cruise Souvenirs
Lifecruiser Cyber Cruise in Technorati

© Copyright
Lifecruiser.com
. All rights reserved.