There has been a lot of preparations of all sorts for our long Europe roadtrip we're going to do this summer. The latest one was to get a small Notebook (Ultrabook) PC to travel with, as slim as possible but yet with a great harddrive space to store our travel photos.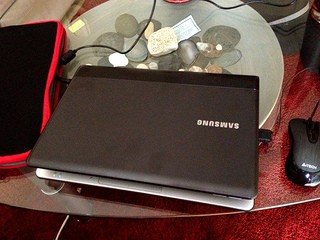 We went with a Samsung NP305U1A-A02 at the reasonable cost of 3990 SEK (approx $570 or €444), mainly because it's slim (1" thick), light-weighted (1.21 kg) and still has 500 GB harddrive to store all our travel photos along the way. I'm planning to both save the photos on the hard drive and upload them to Flickr as a backup along the way too.
The graphic is not for a serious game player, but we won't be playing, we will be out sightseeing…
Not the fastest processor; AMD Dual Core E-450 1.65GHz, but fast enough for checking email, blogging, editing a few photos. 4 GB Memory, with the possibility to exchange it for an 8 MB instead. LCD – 11.6″ HD LED Display (1366 x 768), which we find fully satisfying for our use of it.
High speed Bluetooth, Wireless LAN – 802.11bg/n, Wired Ethernet LAN – 10/100/1000 Gigabit Ethernet LAN, 3 USB-ports, 1.3 megapixel HD Webcam to use together with Skype to keep in contact with family and friends.
We also got a slim case for it and an extern small mouse (see the photo). Yes, we like to have a mouse and not use the touchpad. We both get tensions in our shoulders and neck if not using a mouse. Old fashioned perhaps, but that's the truth.
©Lifecruiser Love Europe Trip Preparations
Earlier post about Lifecruiser Europe Trip 2012:
Another meetup for the Europe road trip
Europe Trip Preparations: Champagne Coolbox Snacks
New car for the Europe trip
Europe Trip 2012 Summery
Europe Trip Accommodations
Mapped Europe Roadtrip Route 2012 by Lifecruiser
Routes and stays booked for our Europe trip 2012
Planning our Europe trip 2012