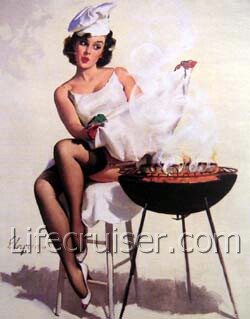 Barbecutie (Rare Treat), 1964.
Oil on canvas. Gil Elvgren.
© BROWN & BIGELOW, INC, ST.PAUL, MINNESOTA
The weather report looks better for the weekend (we've rain and cold now), so we're hoping for an excellent weather on Sunday for the first BBQ party for the season, this time at Mr Lifecruisers nephew's house.
Talk about eating… I was tagged again. This time by the shoe-maniac Sanni with The Eating Out Meme. This meme is a useful one, butt it's still a nightmare for this hungry monster!
How the heck would I choose 5 restaurants???? Stockholm has about 1600-2500 restaurants to choose between, most of them very good!
Did you know that Sweden publishes more cookbooks per capita than any other country in the world? (average: 1/day). We have taken up cooking from all over the world, wanting as much variation as possible.
It's been a hell, I tell you….
I've not choosen the most famous and obvious restaurants, because that ones you can find any way. As you're going to notice, these ones are not serving traditional Swedish cousine. When we go out for dinner, we like to try something else than the food we make at home.
(Click at the names to see some pics of them)
1. Tzatziki – Fyris torg 4, Uppsala:
A wonderful quaint Greek restaurant in a old house by the Fyrisån, the creek that flow through the small town. It's situated in the Gillbergska gårdens basement. The stoneware in the building is constructed during a longer period, probably already in the 16th century and went on to the 19th century. We tested it last Saturday with Miss Ass. Lifecruiser and it was delicious. Actually it was her x-man that was the chief and he is Greek, so how could it not be? *s* He is also very hard with the staff, so they work very fast, which is needed because this is a very popular restaurant!
2. Elias Taverna, Södermannagatan 8, Stockholm:
This is our favorite. It's a cozy, romantic little restaurant on a street away from the main street. The interior is practically breathing Greece and the menu is filled with Greek specialities. It's a heavenly place for me, the hungry monster, since the portions is big, delicious and really genuine. The Baklava and the Galaktobouvekon is home made, so we get more than filled before rollling away from there

3. Dollys Saloon, Götgatan 85A, Stockholm:
Great American Steakhouse dishes in a very Saloon-like interior. You can see a bit of the interior here, since we weren't allowed to take photos inside. In here you can have a real cowboy or timberman dinner

They have big delicious portions too and once again: the relaxed atmosphere that we like so much!
4. Andalucia, Döbelnsgatan 79 / Surbrunnsgatan 37, Stockholm:
Once again we choose the small, cozy restaurant even when we wants to go out for some Tapas or Paella. Looks very modest from the outside, but is true geniune on the inside – and that's also what my inside tell me

You can see panorama pictures of Andalucia here. As a true "Stockholmare" I love to get away from the crowds in the center of the city.
5. Sjätte Tunnan, Stora Nygatan 43, Stockholm:
A Medevial alehouse, the name means "Sixth barrel" and is situated in deep arches below the Old Town. The staff is medevial dressed and we like to be so too when we go there! In there we can take a break from the modern times stress with troubadours, jesters, beer and a special mead brewed from honey or maybe wine from Rhen. The food is eaten with spoon, knife and your fingers, because the fork was not yet invented! If you're ordering a Grand Plate, you'll all be eating from the same plate. The dishes is salmon, wild boar ham, grilled chicken or thick ribs for example. It suppose to be good enough for Kings

Captain Monster Lifecruiser