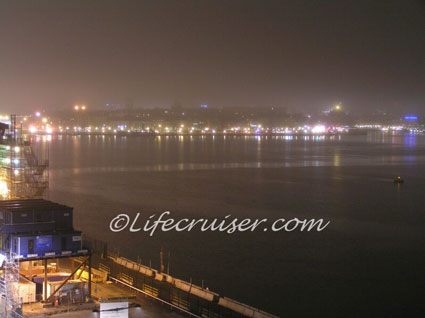 The photo shows how Earth Hour in Stockholm City begins. Yes, we were out there in the darkness.
Not all lights went off at the same time, it gradually went darker. Personally I would have loved if all the lights could have been turned off, but I guess that's too much of a security risk.
In this second photo you can see how it did look like after a while, though unfortunately it were a very foggy evening, so the photos didn't come out the way they should.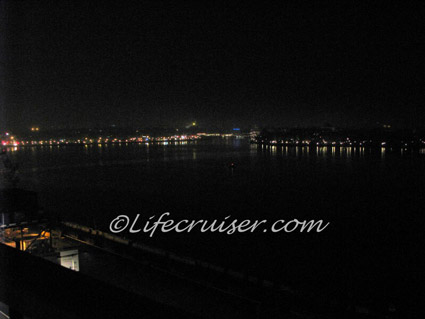 That's pretty dark to be in Stockholm, but I think it could have been more people participating than it was.
Stockholm Castle were dark, so even Drottningholms Castle. We couldn't see the anything at Kastellholmen, Gröna Lund (tivoli) or anything at Djurgården. It was just black in that direction.
One of Stockholms most wellknown and visible landmarks, the big Globe arena, were not to be seen in at all in the darkness.
We did try to take more photos, but it's no use of showing you totally black photos….
When driving through the city, it was darker than normal, but also many lights turned on in the apartments.
If I hadn't known that it was Earth Hour, I might not even have thought about it.
Update: Despite the fact that we was even reminded about it when drinking milk – our milk packages suddenly turned black about a week ago with an urge about Earth hour on them!!!
Other Blogger's Earth Hour Posts:
Norway: RennyBA's Terella – WWF Earth Hour creates wave of participation in Norway too.
Philippines: Heart of Rachel: Vote Earth! and Fun Heart Hour 2009.
Singapore: EastCoastLife put up the banner and a Earth Hour 2009 Singapore!
Norway: CultureSchock – Vote Earth!
France: A. at A Changing Life – Earth Hour 2009.
USA: Scarty at My Daily Life Experience – Earth Hour 2009 in Chicago.
Malaysia: Life Ramblings – Earth Hour 2009.
Philippines: FiliPina Jade – Do you think our planet is worth saving?.
Philippines: Pinay Lighter Side – Yes For Earth Hour.
Lifecruiser ♥ Earth