Welcome to the 2d international cocktail party meme: Drinks 'Round the World, hosted by Lifecruiser Travel Blog & Travel Experta the 1st every month.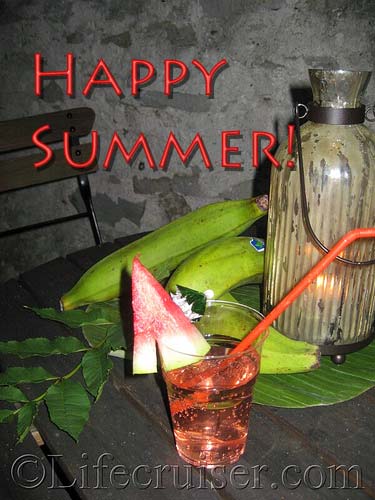 How suitable this drink are, right now. You see, this is a drink I had at the bar at Lauters at our summer paradise island Fårö last year. I will not tell you what it is in it, simply because I don't remember! *giggles*
I do remember though that tomorrow, Thursday 2 July, we're going to Fårö for 4 weeks!!!! I'm in the middle of the packing. The summer don't really start until we're going there.
Yes, we will have internet connection there, but if it's hot weather, we'll mostly be at Sweden's best beaches playing with our toes in the warm sand…. or the Baltic Sea…. ah….
Do you have any drinks from somewhere in the world to share with us? Read How to participate in Drinks 'Round the World Meme.
This is all about having fun together, so you can just show us a photo or write something – it's up to you. If you're making your drink while writing, drinking while commenting: even better….
Leave a link to your drink post in the comments, so we all can come over and have a sip!
Be sure to mingle – and please be aware of the fact that we have different time zones, so be sure to check back later too.
Let's have FUN this summer! Cheers my dears…
Lifecruiser ♥ Summer Drinks