Welcome to the 6th international cocktail party meme: Drinks 'Round the World, hosted by Lifecruiser Travel Blog & Travel Experta the 1st every month.
I still remember our 2007 Cyber Halloween Party – if you haven't read about it earlier, I really recommend to click your way over there! It sure was fun!
Remember, there was a special drink: Boo (the barftender) recommended the Eyeballs On The Rocks!!!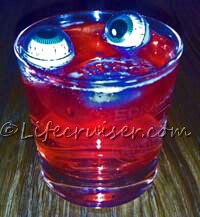 …and for the really thirsty it was OK to order a whole Bloody Mary at once – the real Mary that would last for the whole evening and to be shared with ghoul friends. *giggles*
Other notable Halloween posts:
13 Halloween Trips Tips
Halloween Car Painting
Halloween costumes ideas for a future party
Have a horrorific Halloween my devil friends!
Do you have any drinks from somewhere in the world to share with us? Read How to participate in Drinks 'Round the World Meme.
Lifecruiser ♥ Halloween Drinks