Welcome to the 5th international cocktail party meme: Drinks 'Round the World, hosted by Lifecruiser Travel Blog & Travel Experta the 1st every month.
When seeing the Pastis earlier, what's instantly comes up in mind is a simliar looking, very true Swedish classic summer drink: Gin & Grape Tonic. One of our own absolute favorites.
BTW: If you think the glass in the photo is a bit blurry, you haven't had enough of drinks yet! Keep drinking until it's perfectly clear to you! *giggles*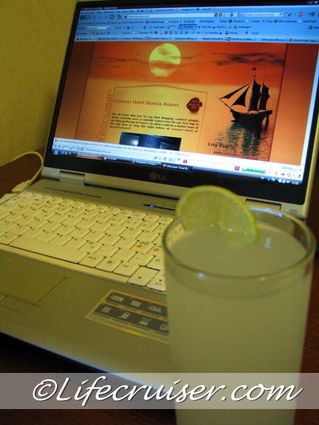 As a drink, it couldn't be easier to make, a hot summer day when you feel very lazy!
Ingredients:
1 part of Gordon's London Dry Gin
5 parts of Grape Tonic water
1 Lemon slice
Ice
What's very important here is to choose a good Gin, it won't do with any kind of Gin. We prefer Gordon's London Dry Gin so far of the ones we've tested.
If you have tested Gin & Tonic before and didn't like it: test with Grape Tonic (preferably in Sweden), it's much better, promise!
Even though this is a kind of false Gin & Tonic, it's still called just Gin & Tonic and it shares the same history as the original.
History of The Original Gin & Tonic:

This cocktail was introduced by the army of the British East India Company in India.

Tonic water contains quinine, which was used to prevent malaria. Because the tonic water consumed to prevent malaria in the 18th century was extremely bitter, gin was added to make it more palatable.[citation needed] The bitter flavor of quinine complements the green notes of gin (flavored with juniper) much like dry vermouth complements gin in a classic martini.

Although the consumption of tonic water currently has less medical use than it once did, gin and tonic remains a popular drink. Tonic water available today contains less quinine and is consequently less bitter (and is sometimes sweetened). Because of this connection to warmer climates and its refreshing nature, this cocktail is more popular during the warmer months.
Do you have any drinks from somewhere in the world to share with us? Read How to participate in Drinks 'Round the World Meme.
This is all about having fun together, so you can just show us a photo or write something – it's up to you. If you're making your drink while writing, drinking while commenting: even better….
Leave a link to your drink post in the comments, so we all can come over and have a sip!
Be sure to mingle – and please be aware of the fact that we have different time zones, so be sure to check back later too. That's also the reason for me posting this while it's still day and not in the evening – some of you have evening already.
I'll be back to check up your drinks later!
Let's party! Skål!
Lifecruiser ♥ Drinks