Since we recently passed our wedding anniversary date I was reminded about our honeymoon at Crete island, Greece back in 2004. There we found a Car Hire company with a great deal to hire a cool jeep to drive around in the high mountain roads.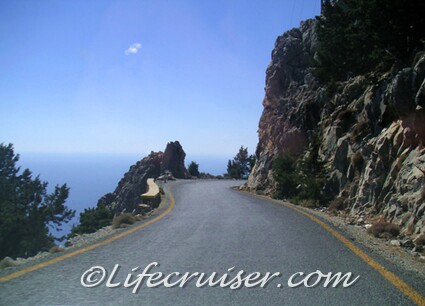 The jeep we hired were a smaller one with just an open canvas top, not much to protect you from anything if needed, but at the time we hired the car we only thought about of how cool it was and how nice it would be with the wind blowing in my hair.
And it was cool. In the beginning. Soon we should become aware of that it is not only cool advantages with an open jeep…
One of the occasions when we got to experience the disadvantages with an open jeep was when we were driving high up in the (very!) narrow mountain roads at Crete island in the very dark night alone with the stars – and occasionally some kri-kri goats passing your way or laying in the middle of the road.
To not run them over – or to not run over the edge of the mountain roads – we had to drive verrrry slowly… I actually had nightmares every night about falling from the often very loose edges of the Cretan roads…
This also meant that it was taking forever and ever to reach our end destination. We thought we never would reach our end destination – our honeymoon hotel. It really felt like we never would see any civilization again or any houses or humans at all.
It was then the disturbing thoughts came: what if the old open jeep we had hired would break down…? We were definitely not dressed for chilly nights in the mountain.
Which is the reason why it is great with a car hire company that offer you road assistance too with an emergency number to call just in case those kind of things should happen!
If the jeep should break down and stop, we would not have had any lights either. Total darkness high up with sharp road edges so close is not what I want. Ever.
When finally seeing some lights and coming closer to more inhabited areas there were suddenly a big roar right into our ears very close to us – like wild tigers, but it was extremely angry and guarding dogs, jumping to attack us – and they were almost up in the jeep with us!
Phew! What a fright! Normally we really love dogs, but those ones were vicious ones I tell you!
We had another frightening moment once when we came around a mountain at the height of 1600 m (5250 ft) and the wind grabbed the roof (made of of canvas) of the jeep and almost swept us away down the mountain side!
A fast, firm step on the accelerator did avoid it, but we was a little bit too close of being blown away for me to like it! I had no intention to start a new trend of Jeep surfing…
Not to mention all the numerous occasions when you came close to a curve at a narrow mountain road and you could hear an eager honking from the cliff you were on the way to round – and there comes a Cretan driver in a very high speed around the corner!
They used to do that: just honk and drive, totally fearless of the heights they were up at and how bad the roads were – with no fences and very damaged edges.
Next time we will not choose an open car to hire if driving in the mountains or even the countryside, I want to be able to close the car doors around me – and I will definitely take some extra clothes with me, just in case of any road incidents.
Probably we will even take a flashlight with us – even though it is very romantic to be alone in the darkness with only the star brighten up your way…
Some other car hire experiences by Lifecruiser:
Car rentals experience and tips
Cool routes for a driving holiday in Florida
Start Fart of France Trip