Welcome to the 1st international cocktail party meme: Drinks 'Round the World, hosted by Lifecruiser Travel Blog & Travel Experta the 1st every month.
I simply can't resist to offer you my favorite drink of all: Sangria! The Spanish national drink? Well, at least for the tourists, but I don't care, I love it anyway!
The best Sangria we've had ever, was the one a family at Cafeteria Sra Calendaria, Avenida Maritima, Corralejo, in the northern tip of Fuerteventura Island, Spain, served us every day while we were there several years ago.
We could clearly feel the difference from all the others we have tasted, this one was more rich of ingredients, kind of the Rolls Royce of Sangria's, if you get what I mean.
(Not the one in the photo below)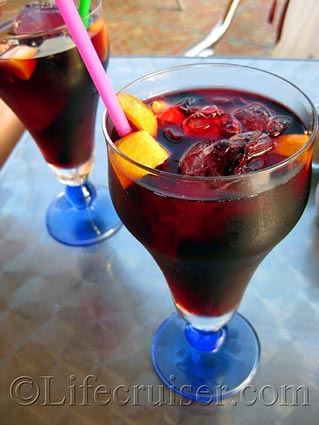 One day when we already had been drinking almost a liter Sangria, the nice son in the family suddenly gave us another liter for free…. What to do? We didn't want to be impolite of course, so we did drink more Sangria…
We tried to get the recipe, which wasn't that simple, since we don't speak Spanish and he didn't speak much English plus the fact that we got too drunk and had to go home and have siesta. Ha ha.
We managed to get the ingredients at least, but you have to experiment to get the right taste. We have made it one time ourselves at home and came rather close, but didn't write down the amount of everything.
Sangria Ingredients: Red wine, Brandy, Cointreau, Liquor 43, Banana liquor, Extra dry Triple Sec, Grenadine, sugar, oranges and apples. (I think that it might benefit to have some Cinnamon sticks in it too).
If you think it's too strong, try to put in some 7-Up or any lemon-lime soda in it too.
- or simply try to drink less of it – but I guess that might be too difficult… *giggles*
So do you have any drinks from somewhere in the world to share with us? Read How to participate in Drinks 'Round the World Meme.
This is all about having fun together, so you can just show us a photo or write something – it's up to you. If you're making your drink while writing, drinking while commenting: even better….
Leave a link to your drink post in the comments, so we all can come over and have a sip!
Be sure to mingle – and please be aware of the fact that we have different time zones, which is why I'm posting this early, so be sure to check back later too.
Let's have FUN! Cheers my dears…
Lifecruiser ♥ Sangria