Join | Blogroll Code
Not much time left recently – I've been busy like an Ant, preparing everything before our vacation which starts Monday 2d of July.
We've done the last cleaning of the basement. There is some things left there that we'll take care of in the autumn, such as Mr Lifecruisers old photos & films – nice to look at in dark evenings in the autumn – and an old antique table that needs to get mended before selling it.
The rest is a few things we need to keep, like old business papers, our suitcases and winter car tires. so we can consider us done there! Phew!
Now, the fun stuff:
I bought a new cell phone yesterday. It's not easy to buy one, since almost every one has some kind of cons according to the tests and the users opinions!!!
At last I had to get a Nokia N73, simply because of it's camera with 3,2-megapixel and Carl Zeiss-optics and autofocus with up to 20X digital zoom, including Flickr support.
Yes, there are a few 5 MP cellphone digital cameras out in the stores, but they're still very expensive and not exactly what I want when it comes to the rest, so I bought this for now. Later we'll see if any of the cell phone companys comes out with my dream cellphone with the camera I want in it.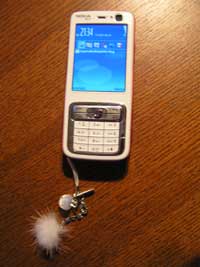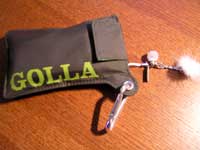 As you can see, I also bought a Golla case for it – and a jewellery. I'm going for the green style this year, even if the phone is white and red. Many of my clothes are green now, they match my eyes….
With this cellphone I sort of got a new digi camera didn't I? So I gave away my old point-and-shoot to my sister to play with. It's her first digi camera you see. Now she can test if this is something for her or not.
But of course that isn't enough for me. I want a better one to replace my DSLR I sold earlier. You know I've been looking for some special one and suddenly I found a store that had the one I wanted!!! JIPPPIEEEE!!!!
It's a very popular model and very new over here, so only a few stores have them and they sell them as soon as they comes in to stock. This was their last one!!!
Meet my new buddy Canon Powershot S5 IS: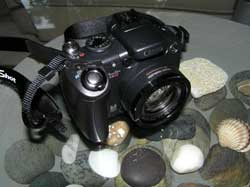 Features that attracted me the most: Weighs only 450 g, 12x optical zoom, Optical Image Stabilizer, 8.0 Megapixel, 2.5" high-resolution vari-angle LCD (folding out), 4x AA batterys which means that I can find batterys anywhere if an emergency appears. Plus there is Wide – Tele – or Close-up converter lenses IF I want that later on.
I just want to point out that the blurry photos in this post is NOT taken by my new cameras… *s*
We also found a laptop to buy for Mr Lifecruiser today, we'll set it up tomorrow – too many new things to play with for the moment
…and I might buy one for myself tomorrow, we'll see if I get one to the right price or not. My demands are a bit higher than Mr L's in one thing: I want Bluetooth! Since my new cellphone has it, I want it one the laptop too!
Since I joined Tackle It Tuesday, there have been a lot of tackles done in this home! It was a highly effective way to deal with my tackles obviously, putting some pressure on me to get them done.
Done & Gone TITS
Health:
- Gyn visits, ultra sound check, cyst, changing gyn Doc, tests.
- Changing house Doc, pain maganagment specialist, medical trials.
- Dietary supplements to boost up my energy, iron levels & stop hair loss.
- Balance physical training & massage (including heat treatments).
- Fixing pelotts (pads) to the shoes.
- Dentist appointments for us both.
Misc:
- Homebaked Swedish Cinnamon buns for my Mom
- Get new soles on 8 (!) pair of our shoes
- Get some minor sewing jobs done
- Backups of our computers
- Emptying the freezer before vacation
- Crooks in the wardrobe for my necklaces
- A lot of clothes to the drycleaner
Cleaning/Get rid off:
- Clean writing desk drawers
- Clean kitchen cupboards
- Clean all our closets
- Emptied porcelain boxes
- Get rid off my TITS before summer
- Buy clothes & shoes for the wedding
- Clean bathroom
- Clean Basement storage
- Sales ads – Total of 15 done!
Shopping:
- New pillows for our bed
- New curtains for all windows
- A new bikini
- A new digital camera
- A new cell phone with decent camera
- New computers = laptop's
***
Quite a lot huh? Tomorrow – if I got my own new laptop – it means that I'm rid off all tackles and am FREE for the summer!!!!
It's like a TITS graduation!!!! *giggles*
You can gratulate me now for all the good work

Captain TITS Lifecruiser
See the latest post and Tackle It Tuesday participants over at 5 minutes for mom.

Lifecruiser Tips:
Head over to Mar to read about Americas Cup!
Do you want to hop aboard at next event?
Read about Cruiser Grades.
Read more about Lifecruiser cyber cruise.
Cyber Cruise Calendar 2007
Cyber Cruise Souvenirs

Lifecruiser Cyber Cruise in Technorati