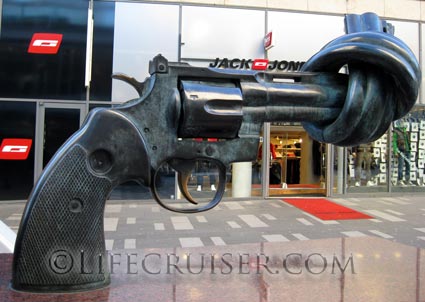 This is one of the non-violence sculptures created by the Swedish artist Carl Fredrik Reuterswärd, at Sergelgatan, Stockholm City. It also stands in several other places of Stockholm, Göteborg and Malmö.
The sculpture was unveiled by H.R.H. Crown Princess Victoria of Sweden, the 4th of December 1995.
There were also an event in the evening, when hundreds of persons were forming a human knotted gun – holding torches – and photo was taken from above by a helicopter.
I know that because Mr Lifecruiser was one of those persons forming the knotted gun. Unfortunately he couldn't find the newspaper picture of it to show us.
At the same time the song Imagine by John Lennon were played – Carl Fredrik Reuterswärd started to work on the first non-violence sculpture because he was so furious over the murder of his friend John Lennon in 1980.
Much later he wrote that while making this peace symbol, he thought of adding a touch of humor to make his weapon symbolically ridiculous and totally out of order, since humor is the finest instrument to bring people together.
Reuterswärd initiated the start of The Non-Violence Project in 1995 and already in 1998 this project had engaged more than 3.000.000 young people in non-violence projects in schools at 3 continents!
The Non-Violence Project won acknowledge for the work by The Paul Harris Fellow Award of Rotary International in 1997; The Award of Honor by The Safety Council of the United States, 1999; The Daily Points of Light Award from The US presidency best citizens cooperation in the USA year 2000.
There are copies of it all over the world spreading it's unambiguous peace message: New York, Los Angeles, Miami, Lausanne, Zurich, Johannesburg, Cape Town, London, Caen, Curitba, Luxemburg, Berlin and more places.
These sculptures are mentioned by lots of travelers in travel sites forums, tourist books and even blogs, including my blog. Not to mention how many photos of them that has been taken!
I remember that lots of people (including myself) were wearing a miniature pin version of the knotted gun on our jackets back then. There even was a Swedish stamp with the knotted gun published the third of August 1995 to celebrate UN's 50th anniversary.
The sculpture in New York, were put up there in September 1988 as a gift by the Government of Luxembourg and is said to be "a monument that no one ever forget about after visiting the FN-building".
FN's general secretary once personally wrote:
"With Non-Violence, Carl Fredrik Reuterswärd has not only endowed the Untited Nations with a cherished work of art; he has enriched the consciousness of humanity with a powerful symbol. It is a symbol that encapsulates, in a few simple curves, the greatest prayer of man: that which asks not for victory, but for peace."
In 1989 he had a severe stroke that made him unconscious for two and a half month. He woke up with no memories and his right side not functioning. Yet, he did not hesitate to take on the challenge to come back, he continued to develop his artwork with his left hand.
I'm a big admirer of Carl Fredrik Reuterswärd, not only for creating the non-violence sculpture and starting the non-violence project, but also for his persistence.
We should all copy his persistence, especially when working for peace.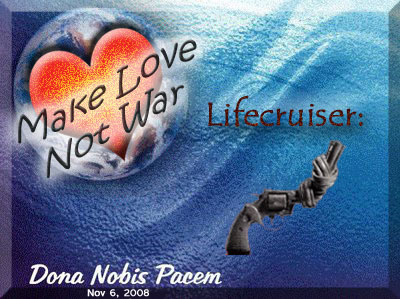 Dona Nobis Pacem in Technorati
Blogblast for Peace Official Blog
Mimi Lenox, the starter of Blogblast for Peace
Lifecruiser ♥ Peace