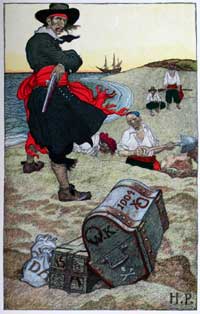 Avast!
Yer real bastard Cap'n an' th' lass' husband Keeper Sylvester is aft sailed' ashore shortly today. Me sailed thar t' seek up a doctor fer his wounds he got in th' sea battle wi' th' bloody shipmates. He be taken care o' now.
T' scurvy wench o' fortune IPCL went out to pillage some other ships n' get some gold 'n came back with t' poor souls left overs.
As yer best Cap'n I be sorry that ye be havin' t' put up wi' this work like dogs t' dig down bountiful booty in an desert isle, arrr!!!
Ya swabbie who ortin' t' be keel hauled!
What be havin' all o' ye been up t' me dear shipmates?
No keel haul o' th' plank yet? Nay ounishes at all? No blowin' in t' hornpipe yet Flora the Tarred? Ye must ben too good!
Ya lily livered lanlubber!
I be off crushin' seventeen men`s skulls between me thighs!
Cap'n Jacquotte The Horny
TIP: From now on there can be more than one post a day on this blog, so keep an eye on the posts below the fist one too!
UPDATE: That t' pirates should ben defeated must ben in yer dreams Gattina since th' buccanneers still be holdin' us in the'r grip!
Keep diggin' deeper! We will get use o' that hole later on fer other things!
Ya horn swogglin' bilge rats!
—–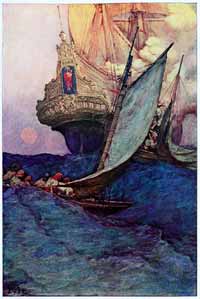 Battle report
In an attempt t' win aft this ship, I an' me jacks be attackin' t' pirates on th' ship starboard now an' a terrible swashbuckle bursts ou'.
After th' fights an' th' battle o' th' ship thar be festivities all night long an' th' cap'n be totally loaded t' th' gunwhales an' gone until mornin'. That be fer true.
Ya scurvy dogs!

Tuesday port: Pirate Bay | Irish Pirate Church Lady
Next port: Berlin, Germany

Do you want to hop aboard at next port?
Read about Cruiser Grades.

Read more about Lifecruiser cyber cruise.