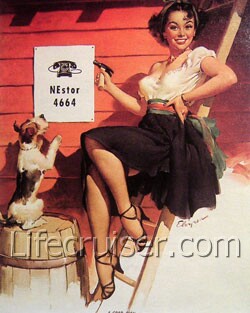 "A Good Sign", Gil Elvgren, 1951.
© BROWN & BIGELOW INC, ST. PAUL, MINNESOTA
I've decided to change some things with the Lifecruiser Cyber Cruise. You may have noticed that the participating has decreased a bit lately.
There are several reasons for that. Bloggers seems to be more busy in real life and might not have traveled so much lately either. There is also the fact of that the links to your Cyber Cruise posts are not noticed, followed and commented as much as we wish it would be, right?
Within my new blog design here now, I did put the Cyber Cruise info links in my sidebar – under the Log Pages section – and that doesn't seem to be enough. Some bloggers don't even look at the sidebar. Which means that the message of what the Cyber Cruise is, may be hard to find for new participants.
Earlier I did link to all info about the Cyber Cruise in each and every post, which seemed to function a bit better, but it's also cluttering my posts and that's not a good thing. Bloggers get used to all the info and after a while not even seeing it – I've noticed that phenomena a lot of times when people ask questions about things that actually is in the post.
Frankly, I don't have the time or strength to get around and marketing your cyber cruise posts as I used to do. It has taken a lot of time for me earlier, trying to get bloggers getting interested and participating.
So there are only two alternatives. Either to stop the Cyber Cruises – which I don't think is an alternative any of us like – or to change it considerably.
I decided to go with the last alternative as a last try.
My next post will be about the changes, so stay tuned!
Captain ♥Cruise Lifecruiser
Cyber Cruise:
The island of Bohol and the chocolate hills
Planning a far away Vacation – Silver Wedding to Argentina from Norway!
Release party at a mini bottle gallery
Photo of the majestic Andes from the Air