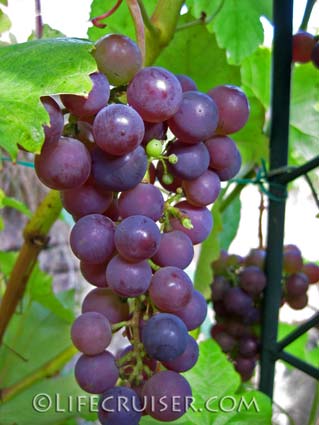 (Vitis vinifera, Vitaceae)
♥ Green Thumb Sunday ♥
This is the first grapes I personally have seen in a private garden. It's TorAa's Norwegian cultivated grapes. Aren't they grand? They tasted as good as they look! His Mom is getting the first harvest today, since it's her 89th birthday. Congratulations x millions to her.
The climate zone in Sweden and all of Scandinavia is a bit too cold to cultivate Grapes. We need hardy Grapes that ripe early and cope with the weather. One has to find the right spot in the garden for them too, as he did. How smart to plant them in the shelter of a rock, getting the warmth that the rock has stored.
Cut from DN, Swedish newspaper:

"Almost half of all the cultivated fruit is grapes. Ten millions hectares of land are planted with grapes. All of it isn't turned into wine, but a lot of it – only one year of the wine cultivations gives about 40 billions bottles. That's about 8-10 bottles each to all of us here on earth. Talk about wine mountains!"
Grapes has been cultivated in Sweden as early as in the 18th century. Back then every castle or manor with any pride had an orangery with exotic fruits. It gave them a feeling of that culture and civilization existed even here up in the North. In the 19th century it ended because it were much more cheap to import.
It's not until around 1990 it came back again, when more hardy grapes were developed, but it's still difficult and varies a lot from place to place, depending on the local conditions. There are red, white and sparkling wines that's made here in Sweden, from Swedish grapes, so far, but not that many – yet.
We have a really good Ice wine, "Vidal Ice Wine", from Blaxsta Vingård, that has won prizes in Wine Worlds Championship twice:
2007: Bronze. International Wine Challenge (England) vidal ice wine 2005
2005: Silver. Challenge du vin (Bordeaux) vidal ice wine 2003
Ice wine is produced from grapes that's harvested and pressed when they're frozen, giving it a more sweet and special taste. Though it's very demanding and there is a risk of not getting any harvest at all, so they're generally more expensive. The Vidal ice wine is very much alike the Canadian ice wine.
The market for Swedish wines are not so big. It's difficult to get the grapes to ripe well here, we need more sun and not so long winters. The wine have a tendency to get too tart and thin. Not to mention how expensive they are.
We're spoiled with so many other good and cheap wines from the rest of the world already!
Lifecruiser ♥ Wine Grapes