This was my second trip to Helsinki together with Mr Lifecruiser, though I have been going on those cruises for many, many times in my life. Every summer until I became 12 years old, to be exact.
2 out of 15 times, I've become seasick. One time when I was 6 years old and the other time in 2004. Both times hard storm, very rough seas and seriously seasick. (Not this time though, thankfully!)
It's longer time on open Sea on the cruise to Helsinki than it is to Åland, which is the second cruise destination which also is popular among Swedes.
The last two cruises have been with one of their biggest cruise ship Silja Symphony, built in 1990, 203 meter long, makes 21 knots and can take 2852 passengers. On our cruise we were only about 1200 passengers, which felt rather empty actually.
The ship has The Baltic Sea's longest pleasure deck: 140 meter long, with some shops and several restaurants placed along it's sides. There's a pub in one end of it and the night club in the other end.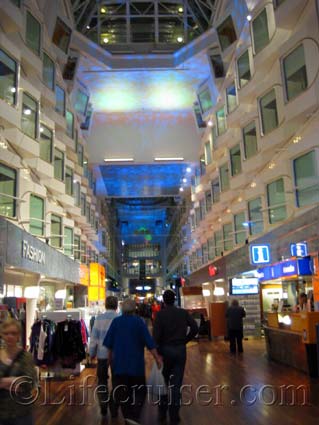 The taxfree shop is one deck below, though for us Swedes there isn't much difference in the prices any longer, so I wouldn't call it taxfree shopping for us.
We had our luxury cabin at deck 11, a Commodore cabin in a locked area where only the passengers that had a cabin there, could enter. Our cabin were 25 square meters, giving us enough space with a small living room part.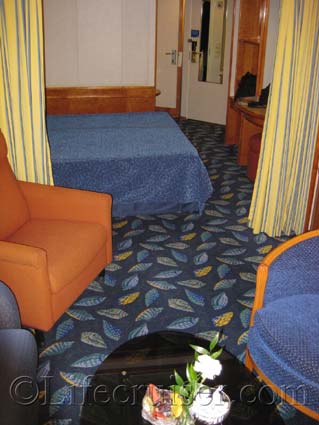 It was really nice and quiet with an own lounge with a hostess to help us with what ever we wanted – and a bar, even though we also had a mini bar at the cabin too, where our Champagne were waiting for us.
There were also a sauna we could book and of course we did go in there – you can't go to Finland without having been to their famous Finnish sauna!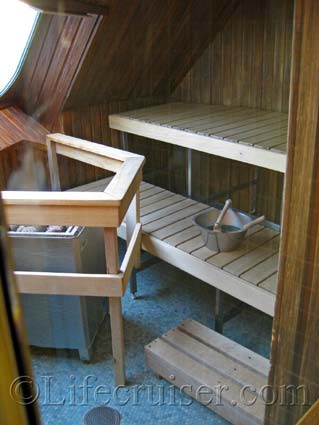 However, the best experience for us on this cruise was without doubt the gourmet restaurant Bon Vivant. It was not so much the interior of the restaurant, nothing special there, but the great service and the delicious food.
Our waiter were only a trainee, but I tell you that he did an excellent job! It was the best service we have had in a long time actually. He even did go to the neighbor place to get the right Martini Dry for Mr Lifecruiser as a fore drink. Yes, I had Champagne.
To go with our drinks they gave us a choice morsel with avocado and roasted seeds, which we didn't order, but was simply delicious. Our dinner couldn't have started better.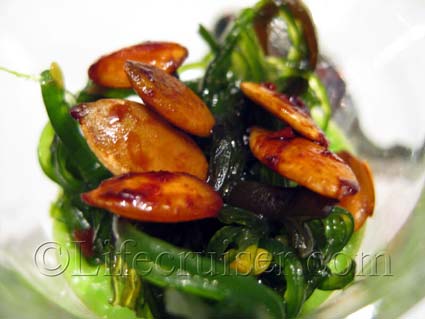 They even have a Sommelier to help out with the wine choice (and a shop were you can buy quality wines), so our trainee got several advices for wine choices for us and even brought out them all for us to taste. That's first class service!
Starter: Shrimps with avocado mousse and ruby red grapefruit sorbet, which was so fresh and so well balanced. Champagne to drink, but since it were new to us I can't remember which one it was.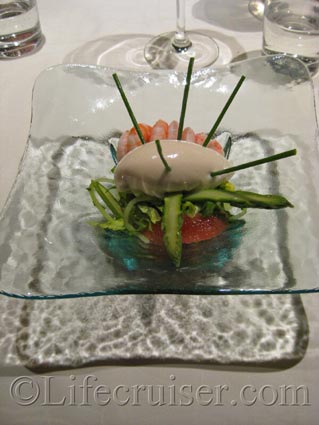 Main courses: Torbay sole (Rödtunga), leek and vendace roe sauce (Chablis, Premier Cru to drink). The Torbay sole were perfect.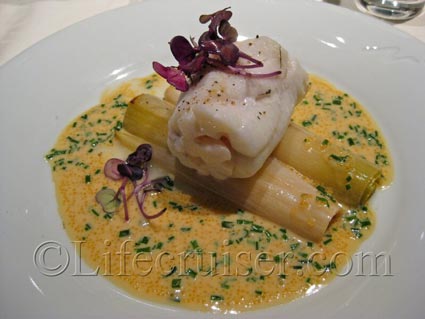 Shank of lamb, potato and lime zest (Chablis, Premier Cru to drink). Mr Lifecruiser said that this was the best lamb he had eaten in a long time, maybe even ever!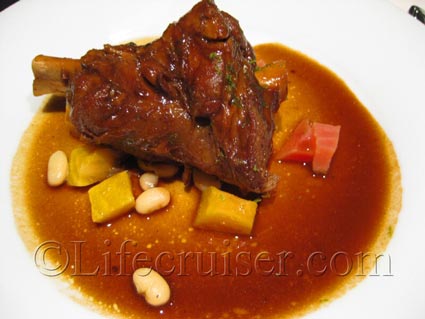 No dessert. Why? We were so full – and we're trying to get fit for the summer season. Once again our bellies are going to be exposed on the beach. *giggles*
We also had breakfast included at the Bon Vivant restaurant too, even though we were a bit too late to taste everything at the gourmet buffet in the mornings – only the Champagne….
There were a short show in the evening in the Atlantis Night Club too. Young musical artists who were great, even though it were not the best show I've seen.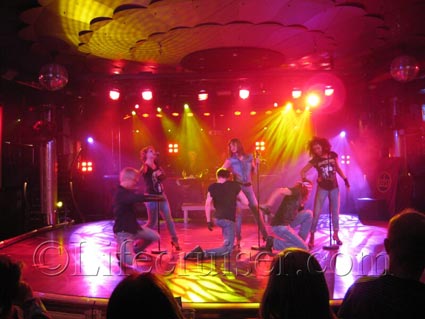 There also were a band playing so people could dance. I did record some of it, but unfortunately I had succeeded to change the settings without noticing (no, I was not too drunk!) so the movie is crap. Sorry.
We walked around for hours in Helsinki, exploring as much as we could and photographing. There is many old or interesting buildings in their cobbled stone streets.
Perhaps the most significant of them – or at least most visible, is the beautifully white Cathedral. It's gigantic with big, steep stairs leading up to it.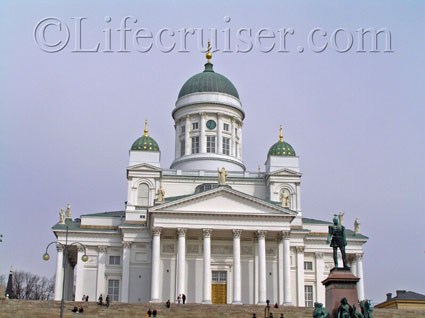 My sister Susan think it's very romantic, what do you think?
So what did we think of the cruise? To be honest: no favorite of ours even though we managed to have a rather nice time anyway. There is something I can't put my finger on that don't appeal to us, but maybe it will to you.
We found the cruise ship rather worn out, there were better shows before and even though Helsinki is lovely in the summer, it was freezing cold and windy this Thursday, not such a pleasure it could have been walking around there.
Conclusion: Go there in the summertime, check up the shows on the ship before you decide which date to go and don't pay full price for the luxury cabins until they have renovated the ship.
We were pleased with our free tickets though…
See all Lifecruiser's photos from Silja Symphony Cruise Ship and our other photos from Helsinki City.
Lifecruiser ♥ Cruise