Some years ago we did a very long road trip (from Sweden) to and within Spain, mostly in Andalusia in the south of Spain, making us wanna plan more costa del sol holidays in the future.
Costa del Sol means the sunny coast of Spain, which is stretching along over 150-160 kilometers of the Malaga province – from Manilva in the west to Nerja in the east, though some also say Cadiz – Motril.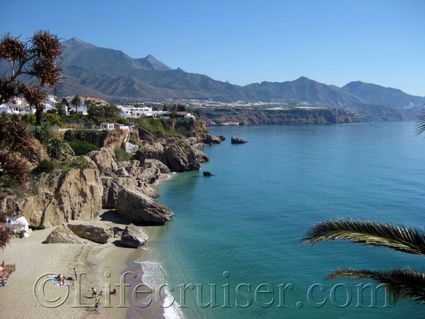 Many of the most well known Spanish towns is situated in Costa del Sol. If you have been there and have some special experiences or places to share with us, please do.
We did drive through most of the Mediterranean coastline, making stops here and there, but we were also taking some roads up in the mountains too. There are so many wonderful places to explore, so many interesting rural villages. We could go on for ages.
Some of the most known places go to are Malaga, Marbella, Torremolinos, Benalmadena, Sotogrande, Granada, Cordoba, Almeria among others – often ending with a visit to the British Gibraltar. We recommend to go along the coastline one way and then through the mountains the other way. There are special mountain routes, check with the tourist office.
Costa del Sol has many fine sand beaches and a mild climate, which obviously have made thousands of tourists coming there year after year. I remember hearing the local names many years back in time from now. My mother has been to a lot of the places in the sixties and seventies.
Even though I think of Seville when it comes to Flamenco and bull fights, we discovered that the Malaga province also has their share of it too.
Many towns has gone from being fortifications from the beginning to become successful producers of different kind of groceries like vegetables, olive oil or goat milk.
We did stay for several days in the Nerja town to relax before heading home again. Nerja is a very nice little town, even though there are a lot of tourists. Personally we like an alternate of both authentic villages and tourist places on our road trips, so this was a perfect stop after being up in the mountains.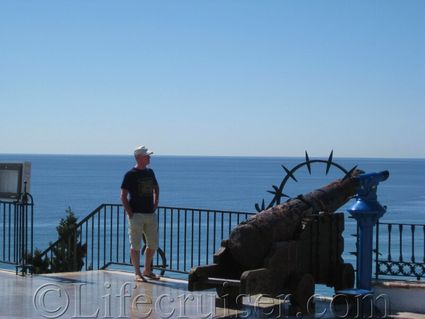 The Balcon de Europa (Balcony of Europe), was constructed around 1487, a former 9th Century Castle, now a viewing point at sea with an absolutely magnificent promenade walkway along the edge of a cliff.
There are also the Nerja caves in the limestone hills, discovered in 1959 and one of Spain's major tourist attractions. It has a natural amphitheatre in one of the chambers where concerts sometimes is hold. Check out the schedule if you are going there, it must be an awesome sound experience.
We ended our Spanish roadtrip at Malaga airport and were also returning our rental car at the airport, very convenient indeed.
Next time we will go to Costa del Sol, it's very possible we will go to any of the fantastic golf courses Costa del Sol offer, especially around Marbella, Estepona and Manilva. Very popular holiday choices for golfers.
Lifecruiser ♥ Costa del Sol