When we were at Tenerife, Canary Islands, we could establish that the most popular place and most central stay, must be at Costa Adeje in the Southwest. We might be looking for holidays costa adeje again in the future, since their winter climate is so great there – 300 days of sunshine per year!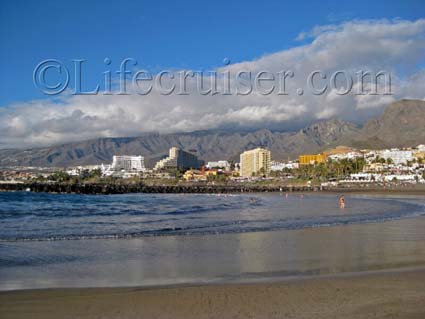 Next time before going to Tenerife, we will do more research and planning what we would want to see and do at the island. Last time we did go on a last minute trip, not planning anything at all.
There is a very long beach promenade that begins at Los Cristianos in the east and continues for miles to Playa de las Americas and on to the resort of La Caleta in the west.
It was very difficult to spot where one place ended and another one did begin. Take Torviscas, San Eugenio and Fanabe as an example, they had no visable borders, very confusing. There were clearly places that were more luxury than others and we've heard afterward that San Eugenio represents the less fancy, Fanabe posh, Torviscas in between with both budget and chic places.
Spending part of our holiday at Costa Adeje, we could not miss the two top attractions of 1) Las Americas Beach – spending time at the more lively beach promenade, eating and drinking watching the sunset – or doing some shopping in the nice little town of 2) Los Cristianos.
Costa Adeje has very high quality Blue Flag beaches which we loved, it's a pity though that we totally missed doing a whale watching tour there. I would have loved to spot some whales – or at least dolphins.
Another thing we missed were to do a trip to the nearby island of La Gomera. We did intend to take the ferry for a daytrip over there, perhaps staying over for 1 night only, but somehow our time were not enough. Too much to explore!
An absolute must is to visit the Mount Teide National Park, which has the highest peak of Spain – 3.718 meters above sea level. Try to visit a day when there is clear weather, to be sure to really see the peak and the surroundings. It felt like being on the moon!
Don't miss that now you can obtain the permission to climb the peak of Teide online.
From Costa Adeje, you can reach Teide by the roads of Vilaflor or Chio. It was quite a nice roadtrip and we actually did it twice. Different days, different roads. Day two we saw a couple in an open sport car – and it started to snow, so be aware that you may need extra clothes…
Further away from the coast is the old town of Adeje and nearby is the impressive Barranco del Infierno – Hell's Gorge, the deepest ravine in the Canary Islands. It's 16 km and takes around 4 hours to walk – if it's open. It might be closed because of rain damage.
Adeje is also home to Siam Park, the largest water park in Europe, which claim to have the largest man made wave in the world: about 3 meter or 9.8 ft. You will find it through the TF1 highway.
Lifecruiser ♥ Costa Adeje
Lifecruiser's other posts about Tenerife:
Las Americas Beach Tenerife
Swedes Los Cristianos Tenerife
Playa de la Arena Tenerife
Playa de la Arena Surfer
Los Gigantes Tenerife Island
Tenereffic Romantic Sunset
Green anaga Mountains – The Hidden Tenerife
Las Galletas Cool Shop Colors
The Virgin of Calendaria
El Medano Blow Away Sway
Tenerife Stop at Top Beach
Tenerife Horse Power
Tenerife Island Triptease
Mountain Roadtrips at Tenerife Island
Different Roadtrip Experiences Tenerife